16 October 2023
The ultimate guide to buying a phone for older people
These days, it's more important than ever that we all stay connected. In particular, we need to make sure that elderly people aren't isolated, and that technology helps them keep in touch with relatives and friends.
Technology like video calls really took off in 2020 and are now the norm for many of us. But for those who are unfamiliar with that technology, it can all seem a bit intimidating. That's why we've created this easy guide for anyone who is buying a phone for an older relative.
What to look for in a phone for an older relative
When you start shopping around for a phone that suits an older user, you need to look for more than just a basic phone with big buttons.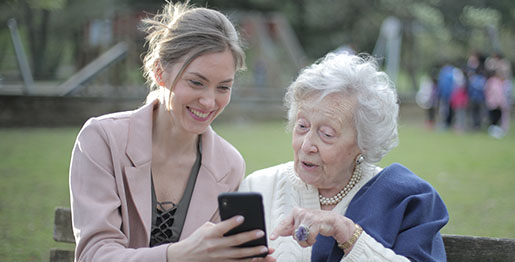 Older phone users are like every other customer, with different, individual needs. So first, decide what the person using the phone will mostly be using it for, and how things like video calls can be made easier and more accessible for them. Whatever type of phone you want, you can get here at Three, whether it's the easiest phone to use or a smartphone for the elderly.
Simple Feature Phones
Regardless of age, some phone users simply want to talk & text with a phone that's easy to use. If this is the person you're shopping for, there are great phones on the market like the Doro 6620 and you'll find more information on that below.
Smartphones
We're seeing more and more people buying smartphones for older users. The reason is simple – they're the best phones for anyone to use. Here are a few reasons why.
Easy Mode
Most Android smartphones today come with an "easy mode" option. As you might imagine, this simplifies how you use the phone and it makes the icons and text on screen much bigger. Buying a video phone for elderly relatives is a great way of staying connected while we all have to stay apart.
Some phones with an "easy mode" include:
Samsung (Easy Mode)
Huawei (Simple Mode)
OPPO (Simple Mode)
Practice makes smartphones perfect
Every new phone takes a bit of getting used to and while younger users want every app imaginable, most older users simply want a phone helps them connect with family and friends.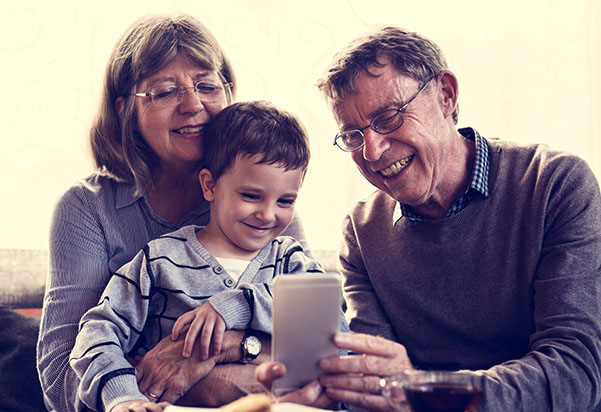 Smartphones open up a world of opportunity when it comes to staying connected. All it takes is a little practice. A quick tip might be to get them something like a Google Nest Hub so you can call them with Google Duo.
A phone buying guide for older users
In this article, we'll take you through all the options, from simply repurposing your old iPhone to buying a new phone - either a basic model or something more with more features.
Adapting an iPhone for an older user
If you're an iPhone user and you've just picked out your new iPhone, your old phone might be the perfect way to connect with loved ones. iPhones don't have an 'Easy Mode' feature, mainly because Apple believes their operating system is just easier to use. But there are steps you can take to make an iPhone more accessible for an older user. 
Tips for making an iPhone user friendly for older relatives
You'll find a wide range of features in your iPhone Options to help make your phone easier to use
In Settings -> General -> Accessibility: Enable display zoom - great for someone with compromised eyesight.
In Settings -> Tap Your Name -> iCloud: Enable find my iPhone – really useful if the phone gets mislaid.
In Settings -> Sounds: You can enable ring when on Silent mode, so calls won't be missed by accident
All iPhones support Emergency SOS. To activate this, hold down the side button and a volume button together - this calls the emergency services (e.g. 999)
There are plenty of other settings to help make an iPhone more suitable for an older person, so don't rule out your old iPhone just because there's no Easy Mode.
Tips: If you are due an iPhone upgrade or have already upgraded, you can adapt the settings on your old iPhone to make it more suitable for an older user.
Buying a new phone for an older user
This is our guide to some of the best mobile phones that are suitable for older people.
Doro 6820
The Doro 6820 is a dedicated feature phone for people who just want a phone that's easy to use. For that reason, it's very popular and a big seller.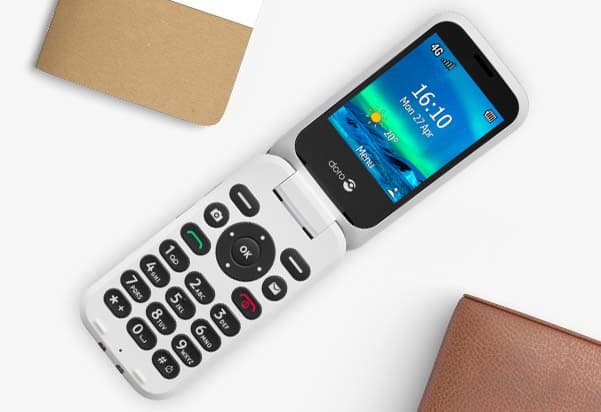 Some of the features which make the Doro 6820 flip phone so popular are:
Larger buttons
Two Speed Dial buttons for family or friends
Phone call volume is far louder than on regular smartphones
Louder ring tones – they're about five times louder than regular smartphones
Hearing aid compatibility (HAC) with T-coils
SOS Assistance button
Auto Answer on opening the phone
Visual ring indication
These features, among others, make it an ideal phone for many older customers looking to stay connected. The Doro 6820 can also connect to the internet and has a 2MP camera for taking pictures.
However, if you need a front-facing camera or apps like WhatsApp and video calls, then we recommend you look at the smartphones coming up next.
Tip: The Doro 6820 is an easy-to-use phone with really useful features that make it so popular. However, you cannot use apps like WhatsApp or make video calls on it.
 
Doro 8200
While Doro has definitely become known best for its folding phone, the Doro 8200 shows the company is moving with the times. Just because people need a phone that's easy to use, doesn't mean they need less functionality. The trick is always making all those modern features easier to use. And that's what the Doro 8200 is all about.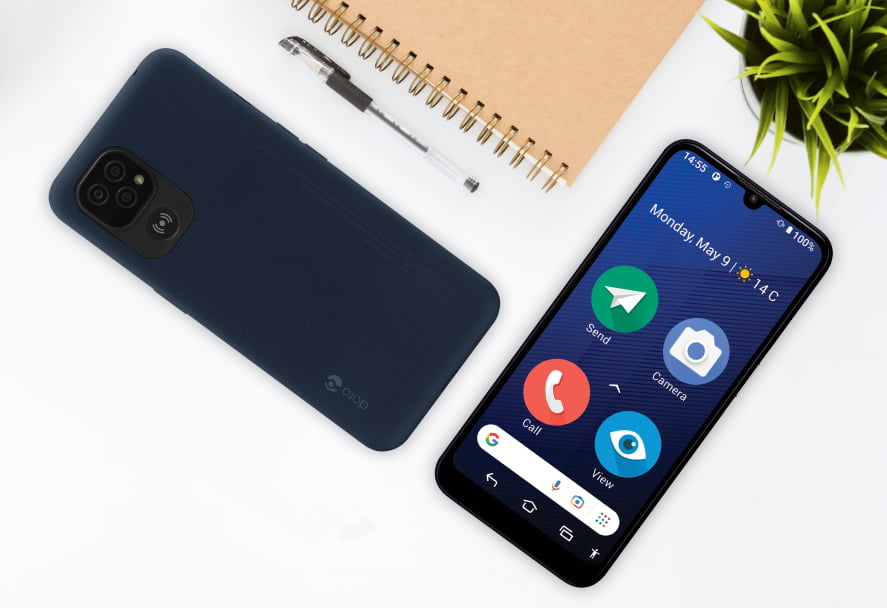 This phone takes all of Doro's principles and puts them into an easy-to-use smartphone. The large display allows for easy to see touch controls, simplified to reduce confusion and increase ease-of-use.
Doro ClearSound makes hearing conversations easier than ever for people experiencing challenges with their hearing. An easy-to-reach assistance button makes connecting with family and friends easy, even during an emergency.
One of the smartest features on this phone is the integration of TeamViewer. This allows a trusted family member or friend to remote control this phone from anywhere in the world. A great way to help someone who's not sure how to adjust a setting.
Tip: Be sure to set up the Doro 8200 Team Viewer setting and ensure the phone has both a data connection and a home WiFi connection. 
Samsung Galaxy A23
The Samsung Galaxy A23 is one of our most popular phones and is perfect for a parent or grandparent to have as their first smartphone. There are plenty of reasons why.
The big advantage smartphones have over the likes of the Doro is internet connectivity and cameras for capturing memories and joining family video calls.
Along with a 6.6-inch display, the Galaxy A23 has an 8MP front-facing camera which is great for two-way video calls when using apps like WhatsApp or Facebook Messenger. The phone also has an impressive 50MP primary camera.
The most important feature when buying for someone older is the oft-overlooked Samsung Easy Mode.
Samsung Easy Mode
Samsung Easy Mode makes the Galaxy A23 a much easier phone to use for older people or people with compromised eyesight. To turn this feature on:
1.    Open Settings
2.    Tap on Display 
3.    Scroll to Easy Mode 
4.    Turn this on
Your phone will quickly change layouts and is now in Easy Mode. To turn this off, follow the same steps and at Step 4, turn Simple Mode off.
Tips: The Samsung A23 is a bigger phone with some great features, including impressive cameras and a great-quality 6.6-inch screen. It opens a world of connectivity and can use apps like WhatsApp and make video calls. Easy Mode simplifies everything for older users.
 
Nokia G60
One thing that makes everyone's life just that little bit easier when buying an elderly loved one a phone is keeping things familiar. There are few brands more familiar with phone users than Nokia. Nokia has made great quality phones for years and many older phone users take great solace from that familiar logo alone.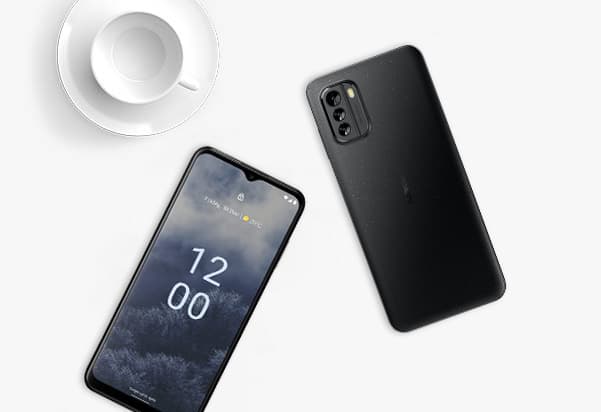 The Nokia G60 is a remarkable phone at an even more remarkable price. This is a great choice for someone who does enjoy taking pictures or shooting video with their phone, while also appreciating being able to keep things simple.
The Nokia G60 doesn't feature a specific "easy mode" like Samsung does, but you can increase font sizes in accessibility settings to make it a little easier to use if the user has limited vision.
Check out the Nokia G60 today.
Tips: While the Nokia G60 is lacking a simple mode, don't underestimate the power of that familiar logo. This is a great phone for elderly phone users who are still using older Nokia feature phones.
 
Google Pixel 8
There's no reason why someone with slightly different needs from their phone wouldn't want a flagship device. The Google Pixel 8 offers up one of the best phones on the market with a lot of accessibility options too.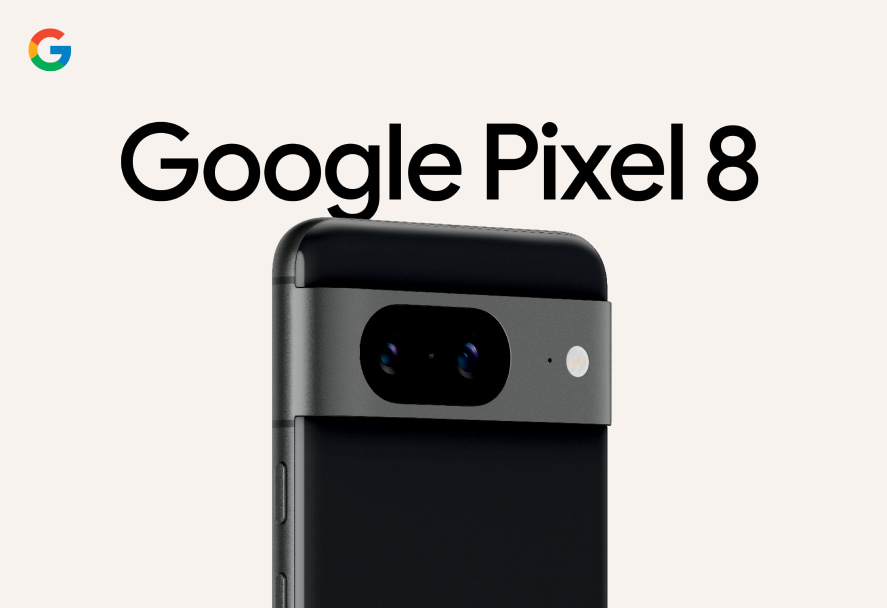 The Google Pixel 8 is powered by Android 14 and features some of Google's latest accessibility features, specifically features helping those  who are hard-of-hearing or with low vision.
Low-vision users can benefit from the new magnifier, which can be zoomed in and out with a pinch-to-zoom gesture. It can also be kept on when switching apps, and users can customize how much of the screen is magnified.
One surprisingly helpful feature is nonlinear font scaling ensures that larger text sizes are enlarged at a slower rate than smaller text sizes, preventing text from getting too large and cutting off. This ultimately makes the phone far more usable.
The Pixel 8 Series also introduced more intuitive ways of connecting hearing aids to the phone. There's now a dedicated hearing-aid setup option within the accessibility menu. This phone also features flash notifications to help those who don't benefit from notification sounds.
Tip: The Pixel 8 is one of the world's best smartphones. If you're shopping for someone with particular needs and an interest in technology, this is the perfect phone for them.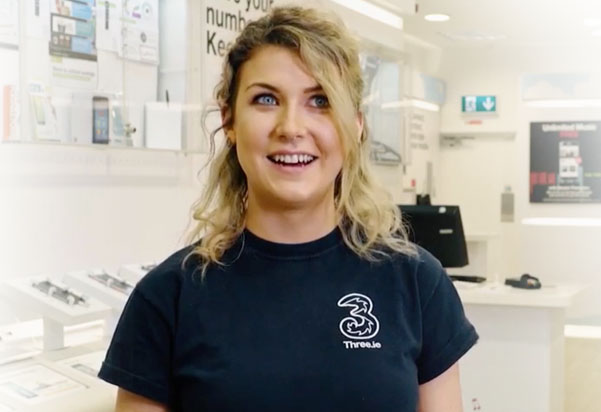 If you're still not sure what the perfect phone is for your older relatives or friends, you can chat with our expert in-store staff from the comfort of your own home right now. They'll discuss all of the options and help you select the right phone. It's an important decision for you - and especially for the phone user - so we'll help you make sure that you make the right choice.