08 December 2020
Gift Ideas for Everyone: The Three Gift Guide
This Christmas, we can't guarantee your brother won't eat all the green triangles or tuck into the second layer of "the good biscuits" but we can make choosing the best Christmas presents for the people closest to you that little bit easier. 
We have plenty of gift ideas for you to consider, from the latesttech gifts to cute Christmas present ideas. We can help you spoil your nearest and dearest with something to suit every budget.
Tech gift ideas for the home
We've all spent record amounts of time at home this year and have examined every square-inch of where we live looking for areas we can improve. If you know someone like this or are just thinking of smarter Christmas gift ideas for Mam and Dad, we've got some good Christmas presents for you to mull over.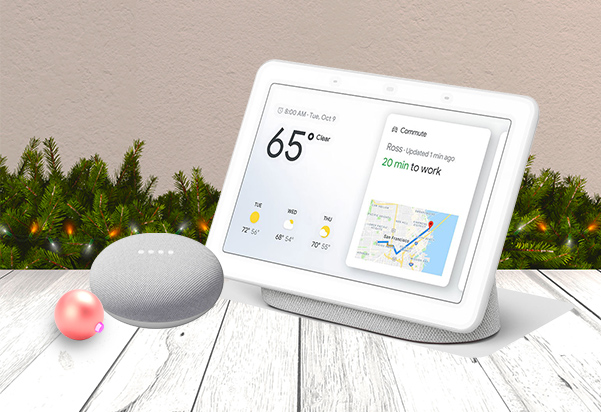 Smart Assistants
Having a Google Assistant at home unlocks a world of opportunity. From the simple tasks or setting timers or reminders to the more complex and optional controlling of smart devices, Google-powered assistants have grown massively in popularity recently.
Google Nest Hub
The Google Nest Hub has all of these smarts built-in with the addition of a screen too. This is great in the kitchen as you can follow recipes which getting your hands dirty. You can also link the Nest Hub up with Google Duo for hassle-free calling.
This particular device doesn't feature a camera, but it can still receive video from someone calling on mobile. This makes it a nice gift idea for the Granny, Grandad or anyonelooking to stay connected. You can buy the Nest Hub for just €89.
Google Nest Mini
The Google Nest Mini has all the smarts of the Google Nest Hub, just without the camera. You can still use this speaker for calls between Google devices. This is a really popular device for people who like listening to music services like Amazon Prime Music or even Irish radio stations. Just say, "Hey Google, play (radio station name here)". Buy your loved ones their first smart assistant for just €59.
Oblio Wireless Charging Sanitiser
When it comes to topical and "trending" gift ideas, it doesn't get more 2020 than a phone sanitiser. Today, more phones than ever can make use of wireless charging. Wireless charging is usually a little slower than plugging your phone in, but the idea is that you charge overnight or while your phone sits on your desk. Our mobile phones get pretty grubby and need a fairly regular clean. This gadget solves both problems of power and cleaning.
Welcome to the new
Three Lifestyle store
The Oblio wireless charging sanitiser ill juice up your phone while also using UV-light to kill bacteria on your smartphone. 
Buy this phone sanitiser and charger for €89
Buying a gift for the adventurer
From one 2020 trend to another. Between sea swimming and hiking, the people of Ireland embraced the elements this year. If you're looking to buy an adventurer a present for Christmas, we have something everyone from power-walkers to the mountaineers.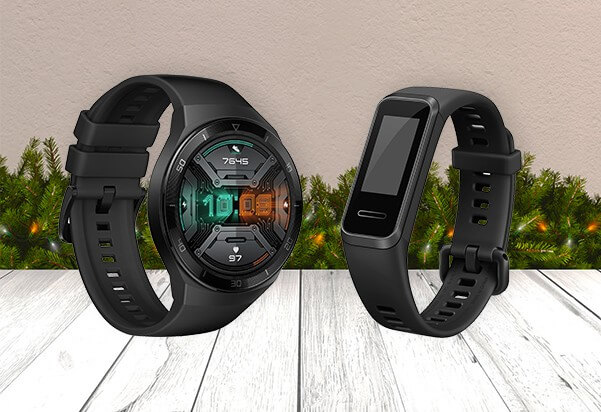 Huawei Watch GT 2e (€169)
If you know someone who wants a smartwatch that looks like a watch but packs a lot of tech in, look no further. The Huawei Watch GT 2e is full of tech to motivate people to get out and about. There are also features like heart rate tracking, telling your heart beats per minute and built-in GPS along with automatic workout detection.
Perhaps most impressive is the watch's incredible 2-week battery life. This smartwatch will work with any device you can install the Huawei Health App on, including most Apple devices.
Buy the Huawei Watch GT2e for €169
Band 4
If you'd like a more budget-friendly option, the Huawei Band 4 for just €45 is a great choice. Fitness trackers are usually near the top of the list when it comes to annual Christmas gift ideas. The Band 4 has nine workout modes and even lets you track your sleep.
Creatives gift ideas
We pretty sure every family as someone who is nearly as comfortable in front of the camera as they are behind it. Whether it be taking pictures of their dinner or recording the latest TikTok trend our photography products are the perfect gift to help them get creative
Polaroid OneStep+ 
No, it's not just a 3D-printed version of the Instagram icon. The OneStep+ a 21st century take on the classic Polaroid camera. Retro has been growing over the past few years and 2020 has seen retro gifts getting new life more than ever.
With Bluetooth connectivity and a photo editing app, the OneStep+ brings the retro charm of printed memories into the hands of a new generation. 
Buy the Polaroid OneStep+ for €139
Muvit Tripod selfie kit
Who'd have thought nearly everyone would know what a ring light was before the end of 2020? This handy selfie kit comes with a ring light for studio-quality lighting, 360 rotation, plus no less than 3 colour modes for a gift they are guaranteed to love. Buy this kit for just €50.
Tech gift ideas
When you're trying to think of a Christmas present for Mam or Dad, you'd be surprised how many times tech has something to offer. Think back to the Google Assistant device we looked at earlier. But there's another level of tech gift which are more focused on the people in your life who only get wowed by the very latest gadgets on the market.
Trust Mouse, Keyboard, Headset Gaming Bundle 
This 4-in-1 gaming bundle from Trust includes a headset, keyboard, optical mouse and non-slip mouse pad, it's gamer's entire Christmas wish list, all in one neat little package to pop under the Christmas tree. It might also be a great gift for someone working from home and looking to upgrade the "home office".
Buy this gaming bundle for €75.
CELLY Pro Light
Like we said earlier, great lighting is no longer reserved for influencers! This lighting setup from CELLY for just €35 is a great budget Christmas present for Dad or Mam want something different. It's also a great idea for anyone if you're ever short on sockets!
Presents for music lovers
With the huge popularity of streaming services and the lack of gigs and festivals in 2020, a music-related present will be a real crowd-pleaser this year.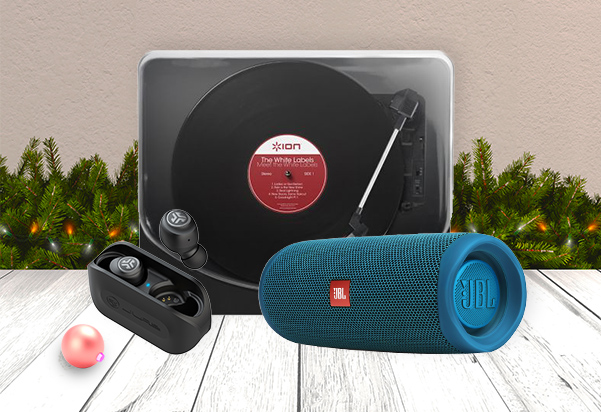 ION Air LP Bluetooth turntable (€99)
Earlier we said retro is a big trend this year and the return of vinyl records is more evidence of 
that. New releases are also appearing on old records leading to demand for record players. 
Enjoy these modern hits with great sound quality or fish some old records out of the attic and take a trip down memory lane. Definitely, one to consider as a gift for your parents if you know they have a stash of records.
Buy the ION Air LP turntable for €99
Monster SS10 Speaker 
There'll come a time where the sun comes out and we'll all be able to roam around and gather with friends again. When that time comes we'll need some music to set the mood! This speaker from Monster won't break the bank but it will let the music lover you know play some great music. It's also IPX5 splashproof rated and supports Siri voice control.
Buy the Monster SS10 Speaker for just €49
Apple AirPods Pro
Apple AirPods were easily the most "in-demand" Christmas gift idea of 2019 and the world's best-known wireless earbuds will be there again for 2020 too. The AirPods Pro are perfect under the Christmas tree for someone with an iPhone who loves music or takes a lot of calls. These also feature noise-cancelling capable of rivalling the best in the business when it comes to noise-cancelling headphones, perfect for people looking to take back some peace on their commute.
Buy the Apple AirPods Pro for €279
That's just some of our favourite gift ideas this Christmas but we're not done yet. We've got more ideas if you're after personalised gifts or if you're still trawling the internet for last-minute Christmas gifts or funny Christmas presents take a look at our full 2020 Christmas gift catalogue here.