28 January 2021
Buying your child their first phone
We're all amazed at how quickly our kids grow up – and when it comes to buying them their first smartphone, there are a bewildering number of choices available. What most parents want is a good phone that is good value, and one that's safe for their kids to use. That's why we've created this 'essential guide' to getting the best kids' phone on the market. 
When is the right time to buy your kids their first phone?
There is no set time or age when kids are expected to have a smartphone. They may ask for one if their friends have smartphones, but as each child develops differently, it's a decision that you need to make.
When children move up to secondary school is often the time when having a smartphone makes practical sense. If you pick up your kids from school or from sports and activities, it helps in case you are running late or if plans change.
Discussing it with your children is important as it includes them in the decision - and you can discuss the responsibilities of having a smartphone and the parental controls you intend to put in place.

Also, you can introduce them to the idea of screen time – putting a structure on the amount of time they can use the device for. To that point, be sure to check that any phone you're looking at has the option to control screen time – it should be clearly highlighted as a feature.
Tip: Consider in advance when is the best time to give your child a smartphone and discuss it with them.
Why choose Three for your kids?
Three is a great network for your child's first smartphone and is excellent value. Our Three Prepay plans start from just a €15 top-up every 28 days. If you prefer bill pay, Three also offer Family Plans that save you up to 20% off your bill, if you want to manage a number of phones from one account.

All You Can Eat Data
Three's new 3 Prepay 20 and 3 Prepay 30 plans come with All You Can Eat Data. Parent's find it really useful, because most kids use apps like YouTube or Twitch all the time – apps that use a lot of data.
Unlimited Calls
Young phone users tend to focus only on how much data they have. For their sake, it's important that you also decide how many calls and texts they can make, so they can always contact you. On 3 Prepay 15, with a €15 top up every 28 days, you get unlimited calls and 1GB of data. However, on 3 Prepay 20, when you top up by €20 every 28 days, you get All You Can Eat Data, unlimited Three to Three calls (handy if you're on Three yourself) and 60 minutes to other networks. 
Adult Content Filter
All Prepay customers automatically have adult content filters enabled. To make sure children can enjoy safe access to the internet, we apply a 'content filter' which blocks access to web pages deemed objectionable, inappropriate, or illegal.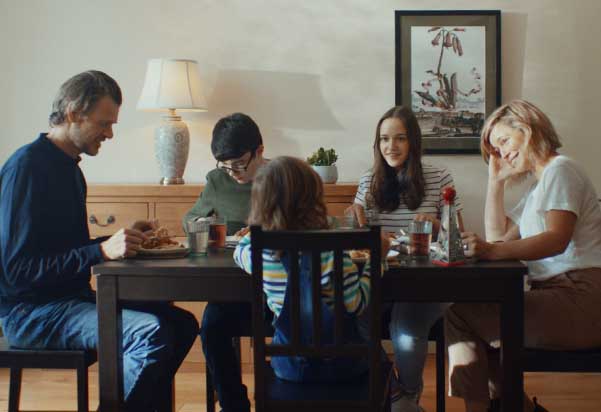 Our new Family Plans designed help you save money - by adding 3 or more users to one Parent Account, you can save 20% on your monthly bills. It's also one of the cheapest ways to own an iPhone by simply adding the iPhone to your account on a Bill Pay plan.
Tip: Choosing Three means choosing the best kids' network and plan. Our prepay plans offer value, reliability and safety.
Choosing the best Mobile for your kids
A few years ago, there were phones for sale that were specifically for kids. Today, there are just smartphones, and you simply set them up to meet the needs of whoever is using them, whether it be kids or someone elderly in your family.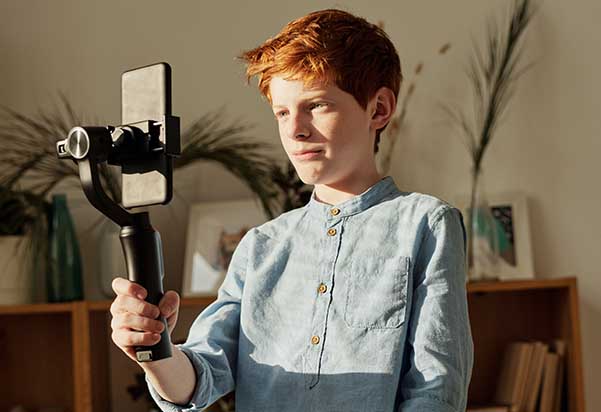 What kids use their phones for is evolving all the time and today, it's about more than just social media. E-learning has grown as schools can now teach remotely, while kids use their smartphones for entertainment, with streaming and gaming becoming more and more popular.
To help you make an informed decision, we've picked some of the smartphones that are most suitable for kids.
Samsung Galaxy A53 5G
Samsung is one of the most trusted and best-known smartphone manufacturers in the world. The Samsung Galaxy A53 5G is currently one of the best-selling smartphones that we stock. Two great reasons for it to be top of the list of phones for your child.
the other side. This delivers great picture quality, especially if you have decided your kids are allowed to use social media apps like Tiktok, Snapchat and Instagram. They'll be delighted with this
One feature parents always love to see is water-resistance. If your kids get stuck in the rain or drop their phone down the toilet, it's protected by a IP-67 rating. It can be in water, 1-meter deep, for 30 minutes.
The phone also supports 5G. This is great for mobile gaming with friends. Just grab a compatible prepay plan and they'll be playing Fortnite on the go in no time.
Tip: The Samsung A53 5G is popular and from a brand you trust. It offers 5G and is water-resistant.
OPPO Find X3 Lite
OPPO might be an up and coming brand in Ireland, but they are well-established in other markets. OPPO bring extremely impressive specs into well-priced phones. The Find X3 Lite matches the bill exactly.
The OPPO Find X3 Lite offers the best of all worlds. There's a great display with 90Hz refresh rate. You get a powerful Snapdragon 765 processor running on Android 11 and another fantastic 64MP primary and 32MP secondary camera setup.
One unique feature for OPPO is 65w fast charging. When the battery is dead, OPPO state the battery can get to a full charge in just 35 minutes. So if your kid finds themselves about to leave for hurling training but with a dead battery, just 5 minutes charging could be enough to get them through the evening.
Tip: OPPO is growing in popularity and could help ensure your kids are never out without some battery in their phone.
iPhone SE
For some people, even kids, only an iPhone will do. We completely understand that the perfect birthday or Christmas present, regardless of age, is going to be iPhone. 
Some people will upgrade their own phone, then hand down their old phone to their child. That's totally ok and if you just need a prepay plan, you know where we are.
If you want to give your kids your old iPhone, first make sure your phone is either unlocked or signed-up to Three. Then buy a Three Sim-Only plan, either Bill Pay or Prepay.
One of the most popular ways to buy a new iPhone for your kids is to get it on a Bill Pay contract. If you go for Bill Pay, it's very important you discuss things like premium numbers and other out-of-plan costs in the Terms and Conditions section of the contract.
Family Plans are another option, where you can monitor your children's spend and usage while they're getting used to their first smartphone.
Alternatively, you can buy them a phone on a Prepay plan.
Which iPhone is best for kids?
We have a handy guide on which iPhone you should buy, but one of the most popular iPhones to buy children is the iPhone SE. That's a really powerful iPhone that uses the same processor as the iPhone 13 Pro. It's one of the smaller iPhones on the market too, which suits smaller hands and it's the best value iPhone in the Apple range.
Tip: Giving your kids your old iPhone is one option; if it has to be new, the iPhone SE is a great choice. Choose a Prepay plan, a Bill Pay plan or a Family plan.
Need a bit more guidance?
At Three, we're always here to help. Our agents are here to support you seven days a week from the comfort of your own home. Or let Three come to you with our one to one video shopping service 3Store Connect where our retail experts can guide you through our plans and phones.