04 August 2022
Which iPhone Should You Buy? iPhone 13 To iPhone SE
Back in 2007, Apple changed consumer electronics forever with the launch of the first iPhone. It's become one of the world's most popular range of mobile phones and 13 years later and the latest iPhones follow the same simple recipe, the latest tech wrapped in must-have design available at a hefty premium. This year's launch the iPhone 13 Series is no different with four gorgeous new phones

Negotiating Apple's handset line-up can be daunting, so we are here to help cut-through the nonsense and help choose the right iPhone for you with some in-depth iPhone comparisons. If you've already bought your new phone, check out some of our helpful iPhone guides to get you started.
Understanding the current iPhone line-up
While the iPhone 13 is the latest handset, older models are still available. The good news is that they're less expensive. Not only that, Apple will continue to support them, meaning that when you buy any new iPhone you'll continue to receive updates for years to come.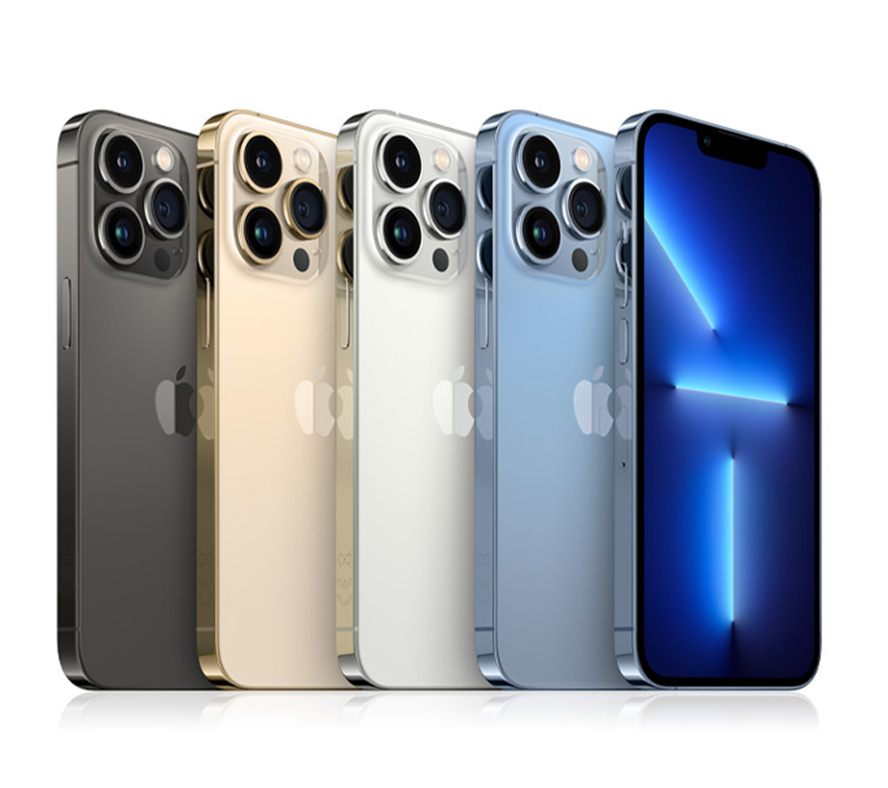 While you can even buy refurbished pre-used iPhones, today we're just going to look at which brand new iPhones  you can buy.
iPhone 13
iPhone 13 mini
iPhone 13 Pro
iPhone 13 Pro Max
iPhone 12
iPhone 12 mini
iPhone 11
iPhone SE 2022
So which one should you choose?  We're going to help you find the answer by comparing the models and diving into the features on offer.
What Is The Best iPhone?
We get asked this on a daily basis. Unfortunately, the answer is that it depends. On paper, the best iPhone is the iPhone 13 Pro Max but is that the best iPhone for you? Some will find it too big, maybe a bit heavy. Would you end up overpaying for features you don't need?
The best iPhone to buy is the best iPhone for you. Here's a few more angles to look from to try whittle it down.
Best iPhone For Photography
Apple's camera tech keeps getting better. This is down to both hardware and software improvements which have culminated in this year's iPhone 13 Pro and iPhone 13 Pro Max. While these are both remarkable smartphone cameras, the entire Apple smartphone range offers something for everyone.
Important Smartphone Photography Specs
There are a handful of camera features to look out for when it comes to picking your iPhone from the lot when it comes to photography. 

The Camera Layout
Across the iPhone range, you'll find different camera layouts. When it comes to the primary rear camera, the iPhone SE has a single-camera setup. The iPhone 11, iPhone 12 and iPhone 13 series have dual cameras while their Pro-variants have triple camera arrays.
Simply put, the more cameras you have, the more flexibility you have in how you shoot your photos.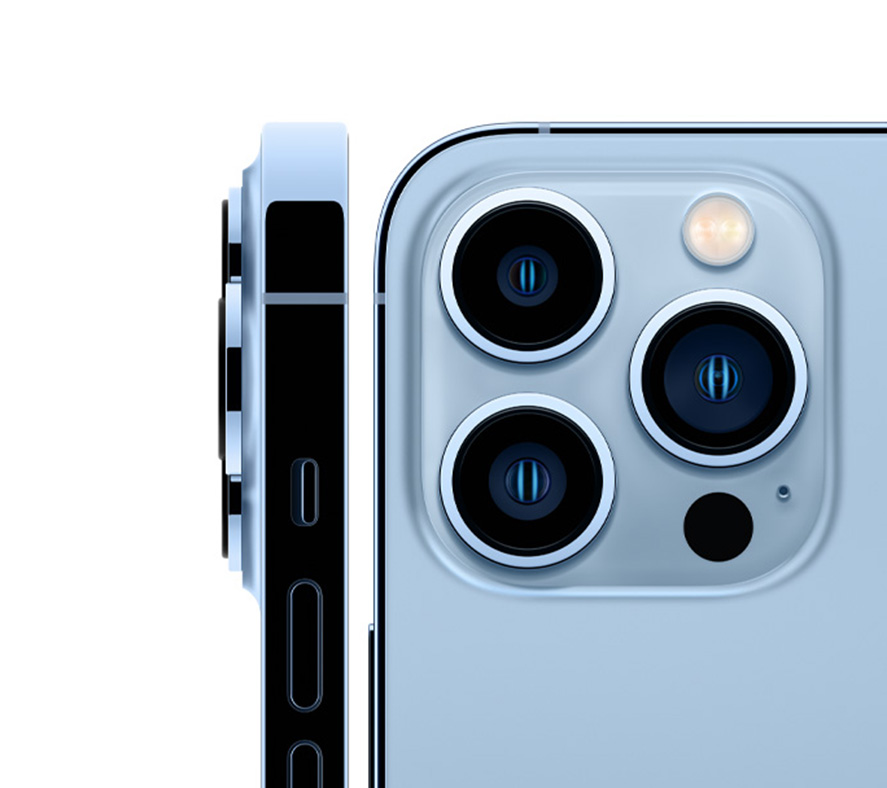 The Chipset
The chip that powers it all is important. This is because Apple combines hardware and software to capture great photos. Apple's family of recent chipsets has been extremely powerful.
The latest chip is the A15 Bionic which powers the both the Apple iPhone 13 and iPhone SE 2022. Last year's A14 Bionic is also seriously impressive and is found in the iPhone 12 Series. To be honest, even the A13 Bionic which features in the iPhone 11 gives a massive software boost to the already impressive on-board camera hardware.
For capturing great photo's look for an iPhone with one of these chips.
Portrait Mode
Portrait Mode is a really popular style of photo (also known as a bokeh style or filter). This is where the subject of your photo, your friend for example, is clear but the background is blurred.
This used to require dual cameras limiting its availability, but Apple has developed a software workaround meaning that it's available on the single-camera iPhone SE along with all dual and triple-camera iPhones.
The iPhone 13 Pro and iPhone 13 Pro Max
While all iPhones offer something great in the way of photography, there can only be one winner. Or maybe two winners. Both the iPhone 13 Pro and iPhone 13 Pro Max share nearly all specs, with exceptions being battery and screen size.
The camera setups on both phones are identical, sharing the same Pro-grade triple-camera systems and share the same Ultrawide and Wide-angle lens specs. Both phones also feature Sensor-shift optical image stabilization. Previously this was limited to just the iPhone 12 Pro Max.
Does some of this sound like double-dutch? Well, then you might not even need a Pro model. The iPhone Pro and Pro Max are for people who want to push their photography to the next level. For everyone else, the rest of the iPhone range offer more than enough photographic firepower.
Thanks to Apple's approach to combining software and hardware to make taking great photos easier, every iPhone will take lovely pictures, right down to the iPhone SE. The 2022 iPhone is a small phone which leans heavily on the A15 Bionic chip to process photos and is the same chip which powers the current iPhone 13 Pro flagship smartphone.
The Best Small iPhone: Comparing iPhone SE and iPhone 13 Mini
For years, smartphones have been getting bigger and bigger. We were all consuming record amounts of content so smartphone manufacturers assumed we wanted bigger screens. Not necessarily true. So, if you're looking for a smaller handset packed with features, we've got you covered.
Let's compare the iPhone SE and iPhone 13 mini.
Size
This seems a sensible place to start. As the name suggests, the iPhone 12 mini is smaller. But don't let that trick you. 
While the iPhone 13 mini is smaller than the iPhone SE, it's actually got the bigger display. This is down to the phone having a greater screen-to-body ratio. This means as you look at the phones, the iPhone SE has more "frame" than the iPhone 13 mini. The result is the iPhone SE having a 4.7-inch display and the iPhone 13 mini having a 5.4-inch display. Phew!
Cameras
As we've discussed, iPhone cameras rely on both software and hardware and both iPhone SE and iPhone 13 mini have some key differences in both areas. The iPhone SE has a single primary camera using the A15 Bionic chip and it's still capable of taking some great photos.
The iPhone 13 mini does pack a little bit more punch with dual primary cameras. Like the new iPhone SE, the iPhone 13 mini is powered by the A15 Bionic chip.
Compare iPhone SE and iPhone 13 mini
Below is a table comparing some of the most sought after features of the two most popular "little" iPhones. 
| | | |
| --- | --- | --- |
|   | iPhone SE | iPhone 13 mini |
| Screen Size  | 4.7-inch | 5.4-inch |
| Phone Size | 138.4mm x 67.3mm x 7.3 mm | 131.5mm x 64.2mm x 7.4 mm |
| Primary Camera | 12MP Single Camera | 12MP + 12MP Dual Camera |
| Selfie Camera | 7MP | 12MP |
| Processor | A15 Bionic | A15 Bionic |
| Battery | 2018 mAh | 2438 mAh |
For a more in-depth comparison, look for the two phones in our shop and clip "Compare" below them for a full comparison.
Apple And Chargers
One thing to take note of, especially if you're buying iPhone as a Christmas present, is that not all iPhones come with power adapters. So, what is in the iPhone box?
Whether it is the iPhone SE or the iPhone Pro 13 Max, to reach environmental goals, Apple doesn't always include a power adapter or EarPods in the box. They do include a USB-C to Lightning cable and they encourage you to use existing hardware if you can. If you need a charging brick, check out our accessory store.
The Best Value iPhone For Sale
The tricky thing about questions on value is that this comparison is often a personal one too. For example, if you can make money from shooting photos and video on your iPhone the iPhone 13 Pro Max will pay for itself. The point here is that the best value iPhone is often down to what you're looking for. Here's how we rank our range of iPhones.
iPhone 11
iPhone 11 has been around the longest in our current range. You'll often find it selling in special offers and for a great price. Given the phone is still brilliant and meets the needs of many, it's worth a look to see if it's for you.
iPhone SE
If you want something a little newer the iPhone SE is a fantastic choice while keeping the price down, especially since the 2022 model was launched.
The specs are impressive too when you consider the iPhone SE has the same processor as the iPhone 13 Pro in the A15 Bionic chip. While this phone has some one of the smaller batteries in the iPhone range, you should still get a full day of battery life (depending on usage) and can still get up to 50% charge in 30 minutes if you buy a 20W power adapter.
iPhone 12
There's a long-standing belief that the best time to buy an iPhone is just after a newer model launches. It's not always true but of course, but you're still getting a fantastic phone at a reduced price.
The best thing to do is visit our shop and compare the two phones to see if the iPhone 13 has enough new features to justify the premium or if the 2020 iPhone 12 really is the best value choice for you.
iPhone 13
There's always something nice about buying the latest iPhone on the market. You're safe in the knowledge that you have an up-to-date smartphone that will remain supported with updates for years to come. The iPhone 13 Series has something for everyone, so if none of the others seem to hit the spot, this is your next port of call.
Still Not Sure Which iPhone Is For You?
Explore the full iPhone range with Three and select "Compare" to compare iPhone handset specs.