07 April 2022
Everything You Need to Know About the New iPhone SE 3rd Gen
What is the iPhone SE 3rd Gen?
Every year Apple launches a new flagship iPhone that goes on to be one of the most popular mobile phones of the year. From time to time they also launch a new iPhone SE. The goal is to offer a lower priced entry point to get the full iPhone experience.
Apple launched the new iPhone SE 4rd Gen in March 2022. This is the third iteration of the iPhone SE which is why you'll see it referred to as the iPhone SE 3rd Generation, iPhone SE 3, or iPhone SE 2022. While there was much debate about this for a long time, it turns out the "SE" stands for Special Edition. 
Key features of the iPhone SE 3rd Gen
Let's take a closer look at some of the key features and benefits of the new iPhone SE 3rd Gen.
DESIGN

We'll touch on this even more later, but the iPhone SE 3rd Gen takes many design cues from some very popular past iPhones. Namely the iPhone 6 and iPhone 8, which were immensely popular. In a world where new phones always seem to suggest bigger is better, iPhone SE ducks and goes the other way. 

The 4.7-inch Retina HD Display is fantastic for watching movies or playing games but remains truly pocket-sized. There are larger bezels around the screen as the iPhone SE has a larger screen-to-body ratio than newer iPhones. It features an aluminium body design and the toughest glass in a smartphone, both on the front and back.
This actually suits the phone's design. Another thing you'll notice about the iPhone SE design is the home button. Newer iPhones use Face ID to recognise you and to unlock the phone. iPhone SE uses Touch ID, a fingerprint reader in the home button. There are plenty of occupations and situations where that will appeal to people. Think about paying in store with Apple Pay while wearing a mask for example.
There's also a water resistance rating for the iPhone SE. It's IP67 rated for water and dust resistance.
All of these design decisions are clever from Apple. They've designed a phone that has all the best features of iPhone, but at a cheaper price point to make it more accessible.
 
CAMERA
Another thing that may cause you to double take is the single camera on the rear of the iPhone SE. We've become accustomed to seeing many more these days. Instead, the new iPhone SE relies more on processing than the hardware to capture fantastic images, and that it does well.
Features like Smart HDR 4 allows the single camera to cleverly apply adjustments for colour, contrast, and noise to what you're photographing, allowing your photos to really "pop".
Not only can you capture great regular shots and videos, but the processing power also lets you shoot stylish Portrait Mode photos. These are the shots where your subject is crystal clear against a blurred background. 
Finally, while there's no specific "night mode", the A15 Bionic lets you shoot video with reduced noise, particularly in low light.
 
IPHONE SE 3RD GEN VS IPHONE 8: THE NEW FEATURES
While the physical design of the iPhone SE has been familiar for many years, things change when we look inside the phone itself.

IOS 15 AND A15 BIONIC CHIP
Apple makes powerful and brilliant chips for their technology and the A15 Bionic Chip is no different. This is the same chip you'll find in the iPhone 13 Series, and it makes a massive impact on how the iPhone SE runs. In fact, the new iPhone SE 3rd Gen is nearly twice as fast as the iPhone 8, despite looking so similar.

This chip also means the new iPhone SE 3rd Gen is compatible with iOS 15 and it will work with new iOS versions for years to come.
iOS 15 introduced a raft of great new features for the iPhone 13, including Focus, Live Text and Safari Browser upgrades. All of these now feature on the new iPhone SE 3rd Gen too.
 
5G
While all of these new features are extremely exciting, you could argue 5G is the real reason Apple upgraded the iPhone SE. By doing so, Apple launched their first entry-level 5G smartphone into the market. 
That means if you buy the new iPhone SE 3rd Gen on Three with a compatible plan, then you'll be able to enjoy 5G mobile internet speeds when in a 5G area. We offer 5G in every county too.

What iPhone is the iPhone SE 3rd Gen most similar to?
This is one of the most asked questions about the iPhone SE. We've kind of touched on it a few times, but we wanted to address it directly. The iPhone SE 3rd Gen is a mix of new and old, but to look at, it closely resembles an iPhone 8.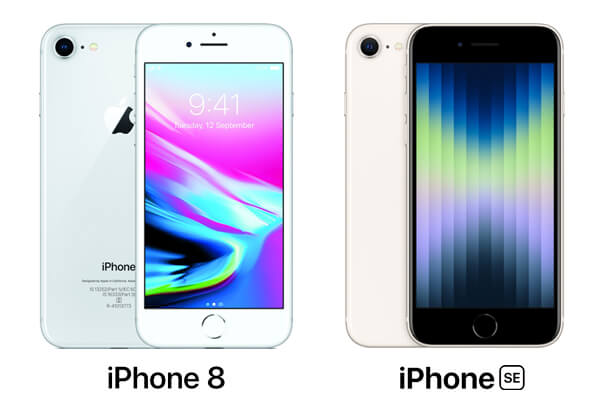 And that makes a lot of sense. Apple retained much of the iPhone 8's look and feel, which in turn was largely based on the iPhone 6 Series. The iPhone 6 remains one of Apple's best ever selling iPhones.
But that's just look and feel of the phone, what's inside is the other half the story.
The iPhone SE 3rd Gen has Apple's A15 Bionic Chip powering it. That's the very same chip you'll find inside the iPhone 13 Series, from iPhone 13 mini right the way up to iPhone 13 Pro Max. So while the iPhone SE looks a lot like an iPhone 8, it has much the same processing power of a modern-day iPhone.
There you have it. The new iPhone SE 3rd Gen is cheaper in price, but not in features. When it comes to the specs, it's one of the best priced phones on the market, packed with features including 5G. Head on over to our online shop now to get the latest deals on Three Bill Pay and Prepay.
Excited about what we've learned from the Apple Event? Don't forget, you can buy your new iPhone 13 now and be amongst the first in Ireland to have one.