27 August 2021
Comparing The Samsung Galaxy Z Flip 3 Vs Galaxy Z Fold 3
We're fresh off the back of one of the most exciting Samsung Unpacked events. Samsung announced not just one but TWO new phones! We were lucky enough to meet the Samsung Galaxy Z Flip 3 and the Samsung Galaxy Z Fold 3. If you're new to folding and flipping phones, you might be wondering what the difference is? We've done the research for you!
The Samsung Galaxy Z Flip 3 and Galaxy Z Fold 3:

 The Differences

While some features are similar (both have side-mounted fingerprint sensors for unlocking and supporting 5G) there are many differences too! First, let's get down to the most important reason Samsung launched two phones at their Unpacked event.


Early folding phones were designed to open and close much like a book. This is how the OG Samsung Galaxy Fold worked. The benefit with this design was that your phone could be a regular old smartphone, but with a quick unfold, you have a tablet too!


The smart design team at Samsung realised that this was just the one way you could build a folding phone, and with that, the Samsung Galaxy Z Flip was born. The Galaxy Z Flip opens and closes in a "clamshell" or makeup compact style. This is a clever nod to some of the very first mobile phones. The advantage of this style is that you can easily fit a full-size smartphone in your pocket, or view from the perfect angle for watching movies, making a video call or snapping a hands-free selfie.

Samsung has confirmed that both of these phones are on their way to Ireland, and we'll be stocking them here at Three! Let's dive into the details beyond the folding form factor.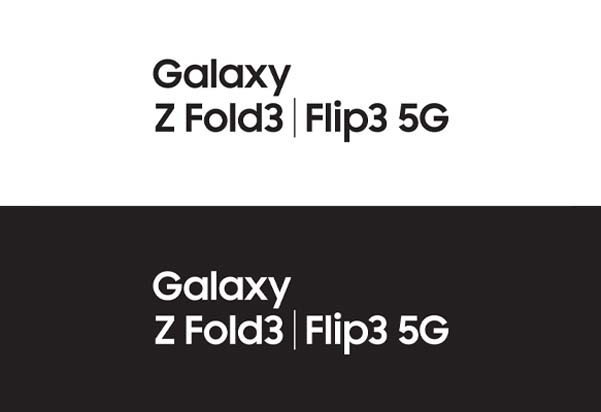 Samsung Galaxy Z Flip 3 vs Galaxy Z Fold 3:

The Visuals

As you might have guessed, because of their form factors, the two phones have distinct displays. Both are equally impressive.

When closed, you'll be able to use the Samsung Galaxy Z Fold 3's 6.2-inch Dynamic AMOLED cover display much like a regular smartphone. But once you sit back and relax at home or on your commute, you can unfold the phone to create an even more immersive experience. The main display is a 7.6-inch AMOLED with adaptive 120Hz refresh rate.

The Galaxy Z Flip 3 also has two displays but is totally different in form factor. When closed like a "clamshell", a 1.9-inch cover display will show you helpful information. This display will also allow you to see notifications and "screen calls". Simply put, this means you can see who it is before opening to answer. Handy if you think you've spotted a scam phone call.

Once you flip the phone open, you have a much larger 6.7-inch AMOLED FHD Infinity-O display with an adaptive 120Hz refresh rate.

Both phone displays feature real folding glass, which is pretty cool in itself!
Samsung Galaxy Z Flip 3 vs Galaxy Z Fold 3:

The Camera

For many of us, smartphones are more about taking pictures and capturing memories than they are about making calls. On the rear of the Samsung Galaxy Z Flip 3, you'll find a 12MP Ultra-Wide lens and a 12 MP Wide-angle lens. When its open, you'll also have access to a 10MP pinhole selfie camera. Remember, because of the phone's design, you can half-open the Galaxy Z Flip 3, set a timer and pose for a selfie! No need for long arms!

So what about the Galaxy Z Fold 3? First of all, when closed, on the rear is the primary camera set up. This consists of a 12MP Ultra-Wide camera, 12MP Wide-angle camera and a 12MP Telephoto camera. You'll be able to capture photos with this setup, whether the phone is open or closed.

Samsung are clever enough to know that when you have a phone with a unique layout, there are unique benefits. This is where Dual Preview comes in. When you're taking a picture, the preview will feature on both screens. So whoever you're taking a picture of will be able to see the shot too—no more blaming the photographer!

When its folded, you can capture selfies using the phone's 10MP pinhole front-facing camera.

Finally, the Galaxy Z Fold 3 has hidden something truly innovative and impressive in its design. When unfolded, there is a 4MP Under Display Camera. Hidden from view, below the screen, is a camera. This is an amazing inclusion in today's world where video calling has become an essential part of staying connected with loved ones.

Now you can have them on the big screen while they can see you. This should also improve the ability to maintain "virtual eye contact" due to the camera's positioning.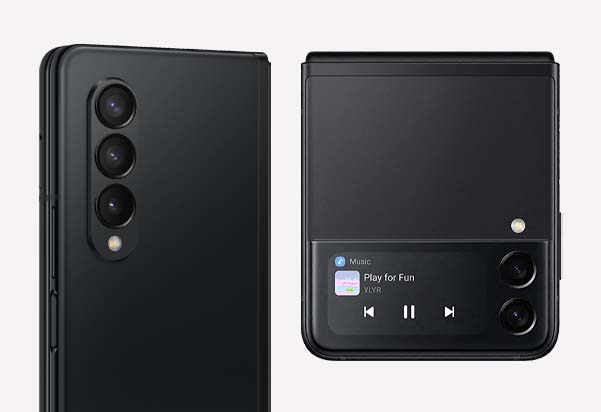 Samsung Galaxy Z Flip 3 vs Galaxy Z Fold 3:

The Battery

The battery is an interesting spec to take a look at. The Galaxy Z 3 Flip has the smaller battery of the two, weighing in at 3300 mAh. The Galaxy Z 3 Fold has a bigger 4400 mAh battery. But it's important to remember that it's powering a larger display. So it's likely that both phones will have very similar battery life.

There are some other battery specs to consider, though, particularly around charging. Both phones have wireless charging and Wireless PowerShare, allowing you to charge other phones and wireless accessories.

The Galaxy Z Flip 3 features 15W Fast Wired Charging, but the Galaxy Fold 3 gets the bigger spec here with 25W Super-Fast Charging.
Samsung Galaxy Z Flip 3 vs Galaxy Z Fold 3:

Which One Is For You?

OK. So we've covered the key differences, but are we any closer to helping you pick the right phone? In case we're not, here are some final notes that might help you out.

The Samsung Galaxy Z Fold 3 supports the brilliant Samsung S-Pen. This means that if you're in the market for a phone to help you be more productive, then this is for you. The Galaxy Fold 3 is for those who balance life between the small and big screen of phone and tablet.

On the flip side (sorry), the Samsung Galaxy Z Flip 3 is for those who are a bit tired of having a massive phone taking up their pocket. The Galaxy Z Flip 3 fits top of the range flagship specs into a neat flip phone. The flip design means there are lots of other benefits, too, making this the perfect selfie camera for the more trend-setting phone user.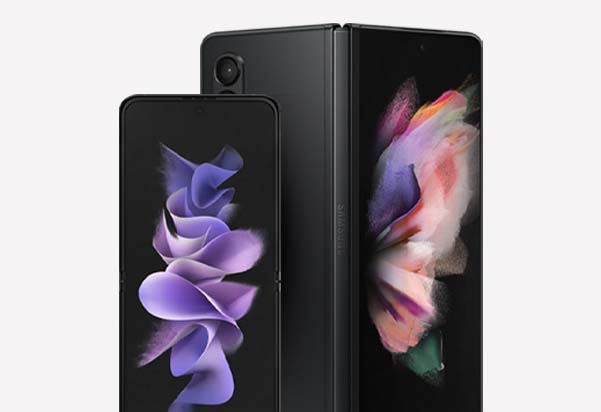 You can pre-order the Samsung Galaxy Z Flip 3 and Samsung Galaxy Z Fold 3 from Three today until 26th August and get special benefits for being an early trend setter! Visit the page of your chosen phone to learn more. Both phones ship for delivery on 27th August.