20 January 2021
Discover the New Samsung S21 phones for 2021
The Samsung S21 is set to be the year's must-have Android, offering simply amazing technology that redefines the sector, with an array of new features and attractive, sleek design. All of the S21 models support 5G so they are the perfect partner for Three, Ireland's only network with 5G in every county.
The S21 series is a major step up from the S20, S20+ and S20 Ultra, but with so many new features and a range of different models to choose from, it can be difficult to decide which one is right for you. That's why we've produced this guide, to help you compare each model. 
There are three phones in the new Galaxy range:
Samsung S21
Samsung S21+
Samsung S21 Ultra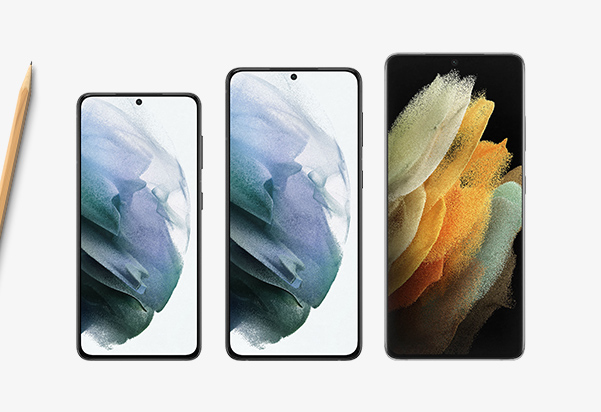 Before we dive into each individual phone, here's a quick overview of the key specs of the Samsung Galaxy S21 Series:
| | | | |
| --- | --- | --- | --- |
| Spec | Samsung Galaxy S21 | Samsung Galaxy S21+ | Samsung Galaxy S21 Ultra |
| Screen Size | 6.2-inch FHD+ | 6.7-inch HD+ | 6.8-inch WDHD+ |
| Rear Camera | 64+12+12 MP | 64+12+12 MP | 108+12+10 MP |
| Selfie Camera | 10MP | 10MP | 40MP |
| Battery | 4000 mAh | 4500 mAh | 5000 mAh |
| RAM | 8GB | 8GB | 12GB |
| ROM | 128GB | 128GB | 256GB |
| Processor | Exynos 2100 | Exynos 2100 | Exynos 2100 |
| IP Rating | IP68 | IP68 | IP68 |
| Operating System | Android 11 | Android 11 | Android 11 |
You can also compare the Samsung Galaxy S21 phones in our shop.
 
SAMSUNG S21
The S21 is the standard model of the new range, but rest assured, there's nothing standard about the array of technology that it packs. Compared to its S20 predecessor, the S21 delivers smarter cameras, faster performance and a sleeker design. It's easily one of the best smartphones available anywhere in the world. 
 
Samsung S21 Specs
 
Screen
First impressions are really good - the phone's 6.2-inch Full HD+ screen sits into a sleek, contour-cut metal housing. The picture quality is excellent, with rich, deep colours and pin-sharp clarity. 
Camera
More and more of us are looking for more versatility and better quality from our phone cameras and the S21's camera is a major plus that will bring out the photographer or movie-maker in you.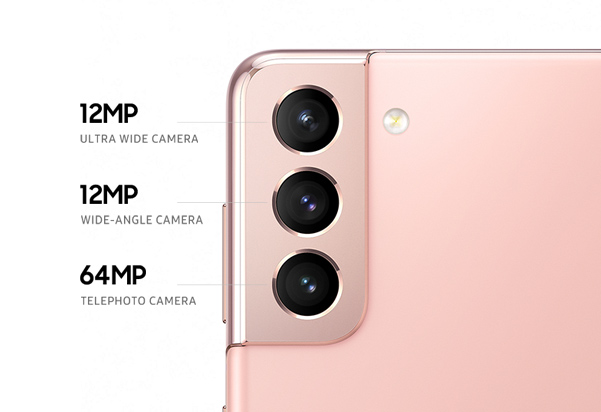 It's just as good for shooting video as it is for stills, with a triple-lens on camera on the rear offering 30x Space Zoom, 3x optical zoom and enhanced Night Mode for low-light photography. Switch to video mode and you can shoot in a crystal-clear 8K video – a real point of difference over lesser phones.
Battery
Samsung have put serious research and development into battery technology to support all the functions of the new phone. The S21's battery means you can keep going all day, because of the power and efficiency in the way it has been designed. The Galaxy S21 is also IP68-Rated, which means it can withstand dust, dirt and sand, and is water resistant up to a maximum depth of 1.5m underwater.
S21 Price
While the specs are market-leading, Samsung have kept the S2's price at a very competitive level. For Bill Pay customers, you can either join Three or upgrade and get this flagship smartphone for just €199 on our €59.02 plan or for €799.99 on prepay.
Our view
Great spec, great value, delivers everything it promises – we believe the S21 is set to become the phone that all other smartphones will be compared against.
 
SAMSUNG S21+
While the S20 is set to be the flagship smartphone for the widest audience, the S21+, as the name suggests, offers additional features and better spec, still at a competitive price.
 
Samsung S21+ Specs
 
Screen
The first difference you'll notice with the S21 is the larger screen, at 6.7-inches. The extra dimensions make the it particularly attractive for TV, gaming or simply for work. The AMOLED display means the touch screen is integrated into the screen technology, giving you exceptional clarity and a screen that reacts to the light in your environment, so it is easier on your eyes. 
Camera
Like the S21, the camera on the S21+ is triple-lens, allowing you a greater zoom function and sharpness, with an array of features to help you get the perfect shot. Shoot in high quality with 8K video or capture the moment without fear of missing it thanks to Single Take 2.0, where you shoot an image once, but get multiple image options to save.
Battery
Additional technology needs additional battery power, and Samsung have taken battery technology to the next level with the S21+.  The 4500 mAh battery means you have a phone than can do more for longer, and it's more secure because the S21+ IP68-rated, meaning it's water and dust resistant.
S21+ price
The extra features mean a little more in cost, but with Three, you can get amazing value on the Samsung Galaxy S21+ , yours for €449 on our €59.02 plan or €989.99 on prepay. 
Our View
The big 'plus' of the S21+ is in the screen size, so if you are comfortable with a slightly larger device, the benefits of this phone are well worth the extra.
 
SAMSUNG S21 Ultra
For the S21 model that takes all of the technological advances to the next level, the Samsung S21 Ultra more than delivers. Thanks to its Exynos 2100 processor, it is the best smartphone that Samsung has to offer with unrivalled power and efficiency thanks to its 12GB RAM.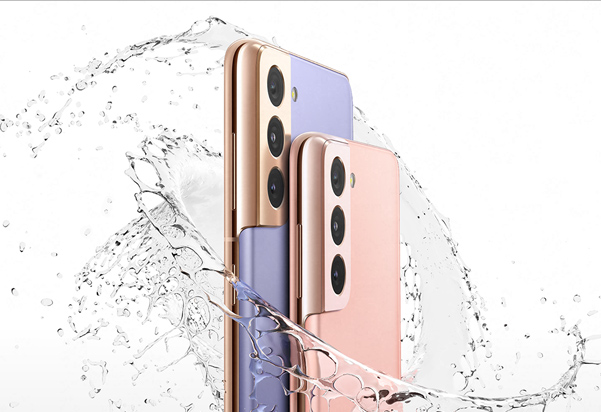 It will be the first of the Galaxy S family that supports the Samsung S-Pen (sold separately) and it's IP68-rated, meaning it is resistant to dust and water - perfect for outdoor use.
 
Screen
The first feature to take in is the ultra-impressive 6.8-inch screen, with Samsung's Infinity-O display. This advanced system offers a cinematic experience for movies and games, and the screen technology puts more in view, whether you're browsing the internet or checking social media.
Camera
Samsung have pulled out all the stops with the S21 Ultra's camera, delivering 108 Megapixels, with Ultra-wide and Tele lenses. On the front, you get a fantastic 40 Megapixels selfie camera, so no excuse not to look good! The camera technology means you can shoot the highest-quality stills even in low light, while for moving pictures it becomes a serious 8K video camera, capturing video at 24fps, the worldwide standard for cinema projectors.
Battery
Technology is only as good as the battery that drives it, but the S21 Ultra boasts a massive 5000 mAh battery. It delivers more than enough power for you to enjoy the phone all day and share some power with friends or charge additional gadgets with wireless power-sharing.
Performance
Behind all of this technology is a processor that gives you unrivalled power and efficiency with 12GB RAM from us. It will be the first of the Galaxy S family that supports the Samsung S-Pen (sold separately) and it's IP68-rated, meaning it is resistant to dust and water to a high level - perfect for any outdoor use.
Samsung S21 Ultra price
You can buy the Samsung Galaxy S21 Ultra on bill pay or prepay with us. It starts from €599 on our €78.70 per month plan and is €1309.99 on Three prepay.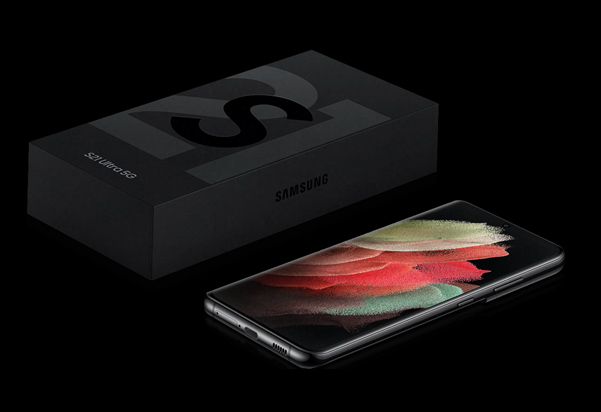 Our View
The S21 Ultra delivers ultra-impressive performance, the best in screen technology, camera and battery. If you're serious about your phone, this is the one to have.
 
Pre-order the Samsung Galaxy S21 series
You can pre-order the Samsung Galaxy S21 series right now with Three. The pre-order starts today (14.01.2021) and continues through to 28th January 2021. Once you have your pre-order placed before 3PM on 28th January, you'll receive your new phone on 29 January*.
We'll be offering a selection of the Samsung S21 series, including the:
Galaxy S21 Ultra Phantom Black (12GB RAM with 256GB ROM)
Galaxy S21 Plus Phantom Black
Galaxy S21 Phantom Grey
Galaxy S21 Phantom Violet
Galaxy S21 Phantom Pink
 
Bonus gift for Samsung Galaxy S21 pre-orders
Pre-order your new Samsung Galaxy S21 phone before 28 January 2021, you'll also get a free gift with your purchase:
 
Samsung Galaxy Buds Live with Galaxy S21 and Galaxy S21+
When you pre-order either the Samsung Galaxy S21 or Galaxy S21+ you'll be to redeem a pair of black Samsung Galaxy Buds Live worth €179 directly from Samsung for free.
The Galaxy Buds Live are a wireless earbuds designed by Samsung to be the perfect companion for your brand new S21 smartphone - beautifully designed, with stunning sound quality and with Active Noise Cancelling. With a case that recharges your buds on the go, you can get up to 21 hours of battery life in total. Sounds good!
 
Samsung Galaxy Buds Live and SmartTag with Galaxy S21 Ultra pre-order
When you pre-order the Samsung Galaxy S21 Ultra, you'll be able to redeem the Samsung Galaxy Buds Live – and you'll get a Samsung SmartTag. This little gadget can be attached to important items like your keys, helping you to find them if they're mislaid.
 
How to redeem your free Samsung pre-order gift
Once you buy one of the new Samsung S21 family between 14.01.2021 and 27.02.2021 you are eligible to redeem a free gift. Download the Samsung Members App and follow the instructions to verify your purchase. You'll receive your free bonus gift within 45 days.
 
Get the best from 5G with the Samsung S21 Series
The entire Samsung Galaxy S21 family of smartphones supports 5G.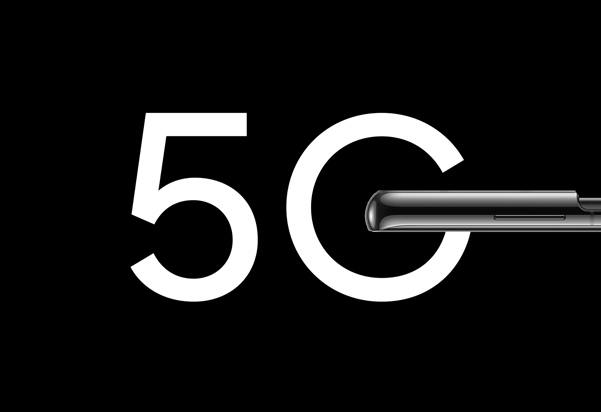 Buy your new Samsung Galaxy S21 phone with Three and you're not just getting one of the world's best smartphones, you're getting access to Ireland's biggest 5G network –  offering 5G in every county for super-fast download and smooth streaming**.
For gaming, streaming or working on the go, get on board with Three and the Samsung S21 Series. If you've already picked up your new Samsung phone, browse some of our helpful guides to explore what your new phone can do.
*Subject to stock availability.
**Subject to network availability and compatible plan.