09 May 2022
Xiaomi 12 Launches at Three
We love nothing more than new phones coming to the Irish market. The latest flagship phone to arrive here is the Xiaomi 12. It's available now from Three stores nationwide and online, with both prepay and bill pay options. Here's everything you need to know about the Xiaomi 12 launching in Ireland.
Keep reading to find out what free gifts come with the new Xiaomi 12. Buy before 20th May 2022 to qualify.
Meet the Xiaomi 12
The Xiaomi 12 is exactly what you would expect from an excellent phone manufacturer such as Xiaomi. It delivers incredibly high specs at more accessible prices. Let's go through the key features and benefits of the Xiaomi 12.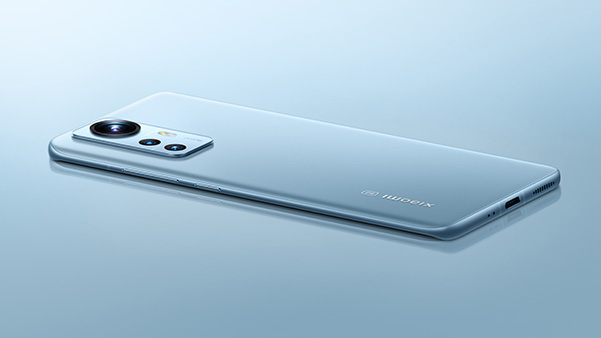 Design
Everything about the Xiaomi 12 screams top of the range flagship. And nothing shows it off quite as well as the phone's design.
The Xiaomi 12 is on the smaller side of flagship smartphones and the result is a gorgeous phone that fits nicely in your hand. It's rare to find a phone that boasts this same level of power and flagship features, that's also comfortable enough to use one-handed.
There's a camera bump on the rear, but it suits the phone. It's also a welcome trade-off given the impressive camera specs you get in return. We'll talk about that more later. Also on the rear of the Xiaomi 12 is Gorilla Glass 5. This glass isn't only strong, but it's also textured to make the phone more tactile and grabbable. It also gives the phone a more premium feel.
Topping that premium feel off is the curved-edge display. This compliments the phone's design, comfort in hand and also emphasises the immersive nature of the display.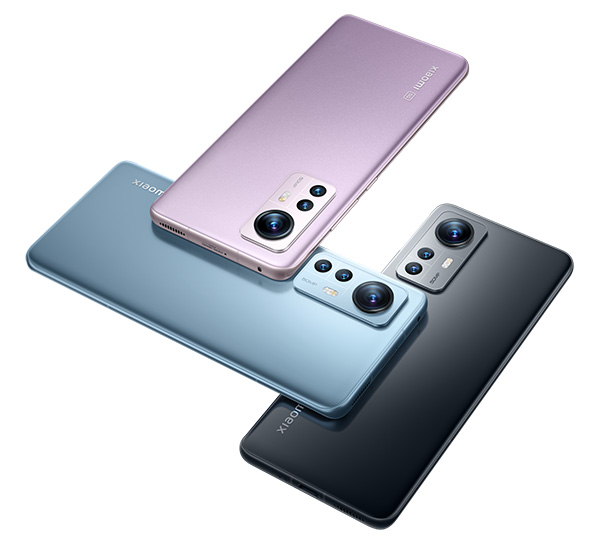 Display
The most important feature of a phone is debatable. But one thing that can't be denied is that the display is really important. From streaming your favourite series on the bus, to gunning down the enemy while gaming, it's one of the main features people look for. And the Xiaomi 12 doesn't disappoint.
The phone features a 6.28-inch Full HD+ AMOLED display. The screen-to-body ratio of 89.2% combined with the curved-edge display means you can truly immerse yourself in movies, gaming, or general streaming.
Specifically on gaming, the display supports a 120Hz refresh rate, giving you the edge over the competition.
Camera
If display isn't the most important thing to you, camera probably is. Earlier we promised you flagship specs in a small but mighty phone. The Xiaomi 12 delivers.
On the rear of the Xiaomi 12, you'll find a 50MP pro-level camera, a 13MP ultra-wide camera and a 5MP tele-macro camera. While that level of hardware helps with capturing great shots, it's the Xiaomi 12's software that brings it all together.
Inside the Xiaomi 12, Xiaomi's AI algorithm processes your captures and turns them into stunning images; memories captured for a lifetime.
And that's just stills. If you're a fan of videography, the Xiaomi 12 will help you create excellent videos, even in the dark of night.
Enjoy cinematic capabilities and professional special effects with Xiaomi ProFocus, One-click AI cinema, and more.
Flip the phone around, and you'll find a very capable 32MP selfie camera. This will allow you to capture stunning selfies of yourself and your friends on nights out or on holidays now that we can travel again.
Battery
Battery is the spec that we sometimes overlook when making our purchasing decision, but really impacts us when we actually use the phone.
In terms of capacity, the Xiaomi 12's 4500 mAh battery is somewhat typical of a smartphone this size. Xiaomi is particular good at squeezing a lot of life from their battery with AI features, so that's one advantage the Xiaomi 12 has in the battery department. This phone will give you a long-lasting battery that's capable of keeping up with your day-to-day usage.
Another trick that Xiaomi has up their sleeve is their charger. Let's start with the fact that the charger is actually in the box. Finding the right charger can be a challenge given the varying powers on the market, but Xiaomi removes this problem by giving you the best charger for your phone. Abd what a charger it is. The Xiaomi 12 comes with a 67W wired turbo charger in the box. This means in just a few minutes, you'll have enough charge to get on with your day and in just 39 minutes, you'll be fully charged.
Operating System
Xiaomi runs on MIUI 13. This is a version of Android built by Xiaomi. Most importantly, you can use all of your favourite Google apps and all apps from the Google Play Store. There are absolutely no compatibility issues you need to worry about here. Buying a Xiaomi phone means you can use Android just like you could with Samsung or Oppo for example.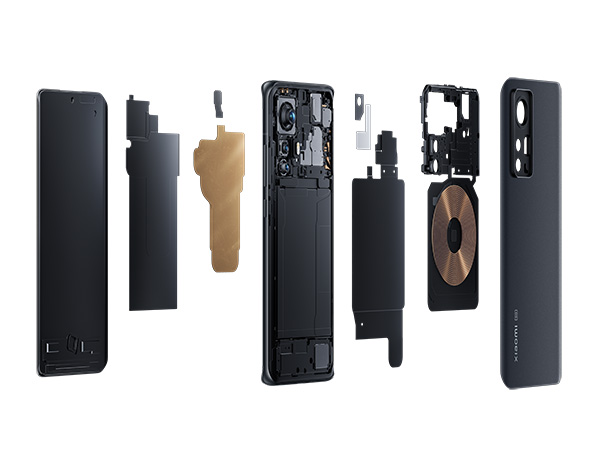 Pricing
One of the Xiaomi 12's biggest strengths is the relatively low price you pay for incredible specs. Our pricing changes from time to time, so please check out our online shop and to view the latest Xiaomi 12 bill pay and prepay pricing.
Special Offer
Want some more good news? Not only is the Xiaomi 12 a great value phone but buy before May 20th and you get a free gift with your purchase. Along with your brand-new Xiaomi 12, you'll also get connected Xiaomi products. That includes a Xiaomi Smart Clock, Smart Speaker, and 360-degree 1080p smart camera. These gadgets are worth a combined €189.96 and you get them for free. Just redeem by visiting Xiaomi's redemption page.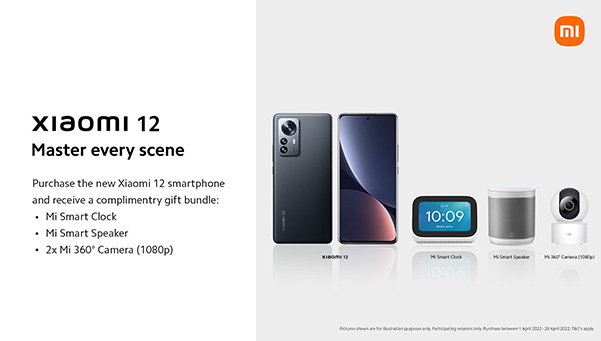 Xiaomi 12 Tech Specs
Phone Size

152.77 x 69.9 x 8.16 (mm)

Display Size

6.28-inch

Display Detail

FHD+ Curved AMOLED

2400 x 1080, 20:9

Primary Camera

50 MP wide

13 MP ultra-wide

5 MP telephoto

Selfie Camera

13 MP wide

Chip

Qualcomm SM8450 Snapdragon 8 Gen 1 (4 nm)

Connectivity

2G, 3G, 4G+, 5G

802.11 a/b/g/n/ac/6

Bluetooth 5.2

Operating System

Android 12 running Xiaomi MIUI 13

Memory

8GB RAM

256GB ROM

Battery

4500 mAh

10W reverse wireless charging

Charger

Type-C 67W turbo charger (included in box)

Phone Weight

180g

In the Box

Xiaomi 12
67W Charging Brick
Type USB-C cable
Adapter
SIM Eject Tool