09 February 2022
Samsung Galaxy S22: Everything You Need to Know
It's one of the most exciting phone launches of the year - the arrival of the new Samsung Galaxy. Samsung Galaxy S22 is here with not just one, not two, but three new phones to choose from. We've also got some great offers to celebrate the launch of the new Samsung S22 smartphone, so let's get to it.
 
Pre-order Your New Samsung Galaxy S22 and enjoy 12 months Disney+ and More
Before we dive in, there's a special offer available for pre-ordering your new phone. If you pre-order any of the Samsung Galaxy S22 Series, you can get up to €399 worth of freebies in return.
This launch offer includes a pair of Samsung Buds Pro, access to Enhanced Trade-in on your old device, a range of apps and a 12-month Disney+ subscription. 

Just pre-order your new Samsung Galaxy S22 Ultra from February 9th – 24th, or your new or S22 or S22+ from February 9th – March 10th. 


The Samsung Galaxy S22 Series
Samsung has launched three new smartphones:
Launching three phones means Samsung is ensuring there's something for everyone. Starting with the Galaxy S22 and moving up to the Galaxy S22 Ultra, there are increasingly impressive specs.

All these new smartphones will be available to buy online and in Three stores nationwide after launch. While it's increasingly common nowadays, it's worth mentioning that they're all 5G enabled. Let's learn a little more about them.


The Samsung Galaxy S22 and Galaxy S22+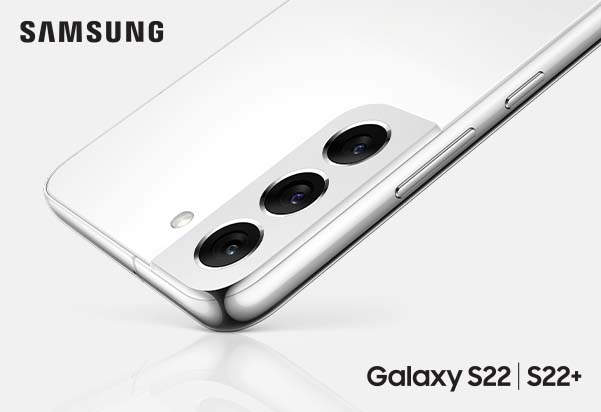 The get the ball rolling, let's look at the Samsung Galaxy S22 and Galaxy S22+. The Galaxy S22 is the entry-level flagship smartphone from Samsung this year. You can expect this to be the top-selling Android smartphone for 2022. The Galaxy S22+ shares most of the same specs but offers a bigger screen, battery and faster 45W charging.  
Here's a closer look at the key features on these two smartphones:


Camera

The Samsung Galaxy S22 and Galaxy S22+ boast some very impressive specs, particularly when it comes to the camera.

On the back of the phone you'll find the primary camera. Samsung opted for a triple-camera setup featuring the following:

50MP wide angle camera
12MP ultra-wide-angle camera
10MP X3 optical zoom camera
Spin the phone around and you'll find a great quality 10MP selfie camera.

Over the past few years, the focus for these cameras has been snapping great pics. Packed full of innovation and supported by AI, the new S22 Series lets you capture memories in stunning detail at any time, even in the dark.

Samsung has brought renewed attention to the video-capturing side of their cameras too. Designed for creators, the Galaxy S22 and S22+ offer excellent video capture even in low light. These phones promise to be game-changing phones for casual film makers and movie makers alike, packed with next-level innovation.


Power

Power in a smartphone means two things and both are important. It's brain power and battery power. Samsung Galaxy S22 features a long-lasting 3,700 mAh battery. The bigger Galaxy S22+ packs in a 4,500 mAh battery. Both will give you more than enough power to cover your first social post of the day, through to the last.
When it does come time to charge, you might find yourself surprisingly impressed. The S22 supports 25W fast charge while the S22+ supports blisteringly fast 45W Super-Fast Charging 2.0, if you do find yourself stuck for power, a 20-minute charge will give you enough power for a day's use.
The other side of the power conversation is Samsung's 4nm Exynos 2200 processor. The Samsung Galaxy S22 is a phone with enough power for everything from streaming to mobile gaming. All of which needs a nice display too. 

Display

And, of course, the Samsung Galaxy S22, and Galaxy S22+ deliver that. First up, the Samsung Galaxy S22 features a 6.1-inch AMOLED display. The Samsung Galaxy S22+ diverges a small bit here with a bigger 6.6-inch display. Both phones support 120Hz refresh rates. Combining these refresh rates with the AMOLED display, these phones offer you an incredibly immersive viewing experience.
 
Samsung Galaxy S22 Ultra
There are flagship smartphones and then there's Samsung's Ultra flagship smartphones. The Samsung Galaxy S22 Ultra offers the ultimate innovation, creating a new standard for power, creativity and performance. Samsung incorporates a series of firsts into this year's mega-flagship smartphone. Let's dive in.
 
Camera

It doesn't matter whether it's day or night, the Samsung Galaxy S22 Ultra has a camera that will wow you. Video footage captured at night can often be grainy and shaky as the phone struggles to make sense of what it's seeing. Not when you have the Galaxy S22 Ultra. Thanks to Samsung's innovative developments in AI-enhanced Nightography, you can capture great video, even in the dark.
The same can be said for capturing stills. You can even take pro-grade portraits in low-light conditions. This is made possible as Samsung use the wide lens in two modes before combining the results to create clear and bright images. 

You can also get closer to the action with the most advance zoom in a Samsung phone yet. The Galaxy S22 Ultra features 100x Space Zoom and 3x or 10x Optical Zoom. Combined with an enhanced studio-like Portrait Mode and AI-image enhancers, this is one of the best camera phones on the market.


Productivity

There's one unique area of the Galaxy S22 Ultra we want to focus on; productivity. We find ourselves working in different places a lot lately. Having a phone like the Galaxy S22 Ultra can help empower that versatility. This is the first S-Series smartphone to integrate S-Pen technology. You can sign documents, sketch ideas, take notes or handwrite Word documents, all on your new smartphone.

Power

As you might expect, a phone that packs in this much productivity also offers a lot of power. The Exynos 2200 is at the core of the Galaxy S22 Ultra's power, offering efficient processing and, increased battery life. The battery is where things get really impressive with a mighty 5,000 mAh on board for all day heavy-duty multitasking. 
The Galaxy S22 Ultra also supports Samsung's 45W Super Fast Charging once you have a compatible charger (not included in the box). If you have a wireless charger, this phone also supports up to 15W wireless charging.


Display

With a 6.8-inch display, the Galaxy S22 Ultra is the biggest phone in the S22 Series. But that size brings both power and clarity. This is the brightest display ever in a Samsung Galaxy smartphone. The benefit of that is that you can see your screen as brilliantly outside as inside. It's actually 80% brighter than an OLED TV. 
Streaming has never been so clear either with support for HDR10+. The phone also supports up to 120Hz refresh rate, which is great for movie bingers and gamers alike. Samsung uses a clever approach to refresh rate, adapting it from 1Hz to 120Hz as you need it. This means you get the clarity required for gaming, but without costing you too much battery life.

So there you have it. The Samsung Galaxy S22 Series for 2022. You can now browse our full range of bill pay and prepay pricing, online and in Three Stores nationwide.