02 December 2021
Stocking Fillers: 8 Cheap Gift Ideas To Finish Off Your Christmas Shopping
The countdown is on. You've got most of the gifts on your list and just need to buy a few stocking fillers. It might be that you're on the hunt for a gift idea for your parents, siblings, or maybe your niece or nephew. It could even be that the office is back to having a Kris Kindle and you need to pick up something for that person in accounting. Whoever you're shopping for, we have some great cheap stocking filler ideas to round off your festive shopping.
Stocking Fillers Under €20
Shopping on a budget? No problem! You'll be amazed what you can pick up online or in-store at Three without breaking the bank. Here's our favourite cheap gift ideas under €20.
Popsockets - A Gift Everyone Can Use
Popsockets are arguably one of the best stocking fillers around. Everyone has a smartphone and smartphones are fairly big. The bigger the smartphone, the tougher it is to hold in one hand, and that's where Popsockets come in handy.
Popsockets stick to the back of a phone or phone case. They pop in and out giving you a better grip of your phone when you need it. They even double as a phone stand for watching Netflix or Amazon Prime Video when travelling.
You can find a wide range of Popsocket products at Three, including Popsocket triple packs, car mounts, and even a Popsocket with integrated mirror.
Browse our range of Popsockets online now, starting from just €20.
Badly Made Books A6 Notebook Trio - Recycled Irish Gift Idea
This is a great gift idea for so many reasons. It's Irish, recycled, useful and can be bought for less than €20. Badly Made Books was founded by Seán O' Sullivan in Cork through a process of trial and error (hence the name).
This three-pack of A6 notebooks is made from reused coffee cups along with repurposed food and textile waste fibres. This is the perfect stocking filler for that person in your life who still loves a pen and paper with the added bonus of supporting local and protecting the environment.
Check out Badly Made Books here.
Otterbox Phone Cleaning Kit
This is a more "think outside the box" kind of stocking filler, but again it's a gift idea that everyone will appreciate. We use our phones everyday and everywhere, putting them down on the commute or even handing them to friends to check out pictures from the weekend. From time to time, it's a good idea to give our phones a bit of a spa day.
This kit from Otterbox is the ultimate gift to give a smartphone a thorough clean. It comes in a stylish reusable metal tin containing three brush and port brushes, a microfibre cloth and some 70% alcohol cleaning cloths. These are great for ensuring your phone is completely sanitised. You can blow the budget and go one further and pick up a Lexon phone charger and sanitiser, but if you want to stick to a gift idea under €20, the Otterbox cleaning kit is perfect.
Take a peek at the Otterbox phone cleaning kit.
Gift Some Cool AirPods Cases
It's not long ago that Apple revolutionised the world of audio accessories by axing the headphone jack on the iPhone 7 and creating AirPods to become one of the world's best-selling accessories. You won't find AirPods in the €20 gift ideas section, but you can buy cool AirPods cases. These are a perfect stocking filler for anyone you know that has AirPods.
Browse our selection of AirPods cases.
Stocking Fillers Under €50
If you're looking for a literal stocking filler and have a little bit more money to spend, these gift ideas will make whoever you're shopping for very happy.
Ecoset - Sustainable Double Walled Irish Water Bottle
This is another great gift idea, ticking plenty of boxes along the way. It's Irish, sustainable and can keep cold drinks cold for up to 24 hours and hot drinks hot for up to 12 hours.
By gifting someone a reusable and stylish stainless steel water bottle, you're also helping them cut single use plastics out of their life, or at least reduce them.
Take a look at our Ecoset water bottle, now just €24.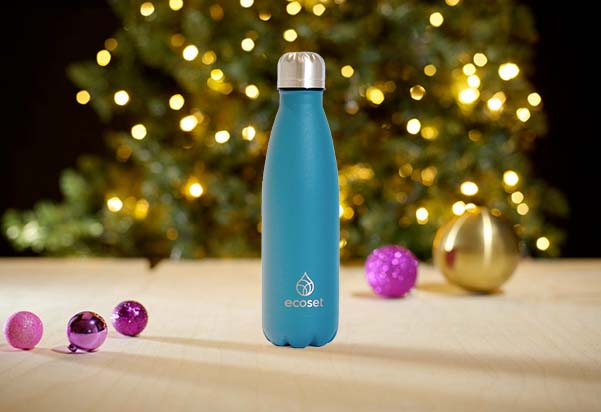 Lexon Nomaday Smart Padlock
The best stocking filler gift ideas are the ones that leave people saying, "isn't that a great idea". This smart padlock from Lexon will do just that, needing no keys or combination and is instead simply opened by your fingerprint. Genius!
This is the perfect gift for that gym goer who doesn't like carrying their keys around, or that friend who goes traveling with valuables like tablets or laptops. It's also great for the more forgetful out there who can't remember a combination or loses their keys!
Check out the Lexon smart padlock for €49.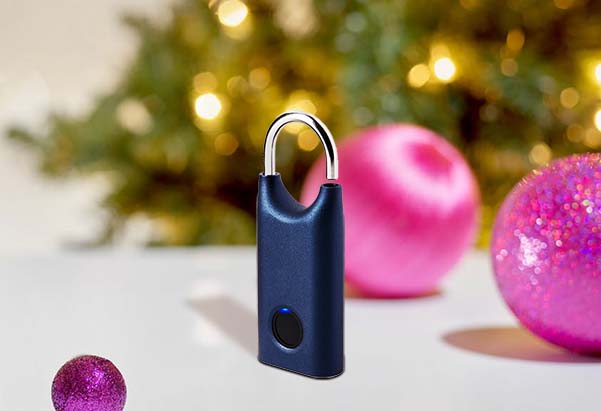 True Wireless Earbuds From JLab
Earbuds are a brilliant Christmas gift idea because almost everyone can use them. It might be for work calls when working from home, streaming your favourite shows while commuting, or listening to music during a workout. No matter what you do, chances are some earbuds will come in handy.
These earbuds from JLab give 20 hours of total playtime. The buds will work for an impressive 5 hours on a single charge and the case they come in holds 15 hours of additional power. It also includes an integrated charge cable, so you'll never be stuck for a way to charge.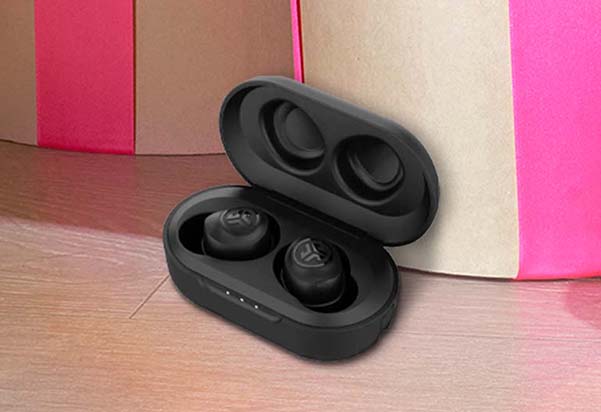 Connected Skipping Rope
Another great gift idea for friends and family that love fitness. The Tangram Rookie Smart Skipping Rope uses magnetic sensors to count every skip and track them in the Smart Rope app. It's another universal gift idea, with an adjustable length up to 3 meters long.
Gift the gift of skipping for €50.
That's just a taster of the stocking filler gift ideas available in-store and online this Christmas with Three. Browse our full range of gadgets for a better connected life and find something for everyone in your circle this year at Three.