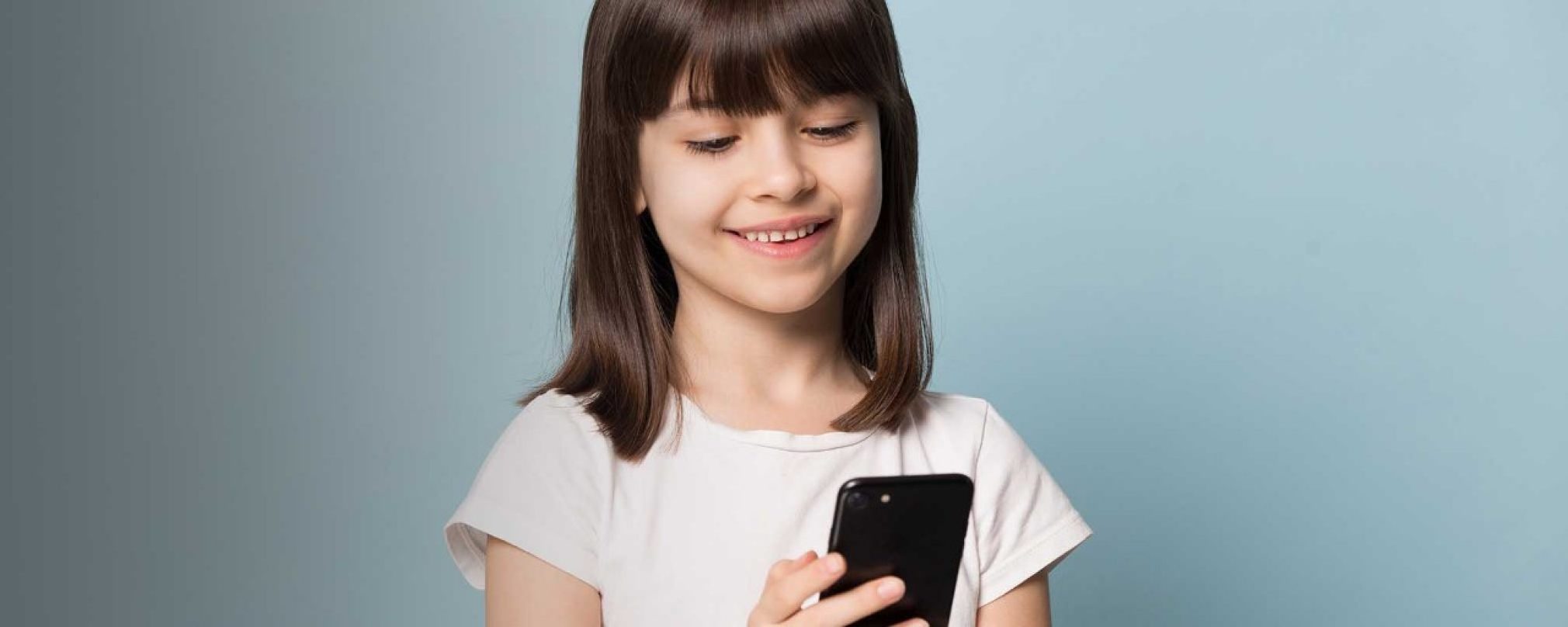 28 January 2021
Buying your child their first phone
We're all amazed at how quickly our kids grow up – and when it comes to buying them their first smartphone, there are a bewildering number of choices available. What most parents want is a good phone that is good value, and one that's safe for their kids to use. That's why we've created this 'essential guide' of what to look for in a first smartphone, with comparisons and tips on what are the your best options.
When is the right time to buy your kids their first phone?
There is no set time or age when kids are expected to have a smartphone. They may ask for one if their friends have smartphones, but as each child develops differently, it's a decision that you need to make.

When children move up to secondary school is often the time when having a smartphone makes practical sense. If you pick up your kids from school or from sports and activities, it helps in case you are running late or if plans change.
Discussing it with your children is important as it includes them in the decision - and you can discuss the responsibilities of having a smartphone and the parental controls you intend to put in place.

Also, you can introduce them to the idea of screen time – putting a structure on the amount of time they can use the device for. To that point, be sure to check that any phone you're looking at has the option to control screen time – it should be clearly highlighted as a feature.
Tip: Consider in advance when is the best time to give your child a smartphone and discuss it with them.
Why choose Three for your kids?
Three is a great network for your child's first smartphone and is excellent value. Our Three Prepay plans start from just a €15 top-up every 28 days. If you prefer bill pay, Three also offer Family Plans that save you up to 20% off your bill, if you want to manage a number of phones from one account.

All You Can Eat Data
Three's new 3 Prepay 20 and 3 Prepay 30 plans come with All You Can Eat Data. Parent's find it really useful, because most kids use apps like YouTube or Twitch all the time – apps that use a lot of data.
Unlimited Calls
Young phone users tend to focus only on how much data they have. For their sake, it's important that you also decide how many calls and texts they can make, so they can always contact you. On 3 Prepay 15, with a €15 top up every 28 days, you get unlimited calls and 1GB of data. However, on 3 Prepay 20, when you top up by €20 every 28 days, you get All You Can Eat Data, unlimited Three to Three calls (handy if you're on Three yourself) and 60 minutes to other networks. 
Adult Content Filter
All Prepay customers automatically have adult content filters enabled. To make sure children can enjoy safe access to the internet, we apply a 'content filter' which blocks access to web pages deemed objectionable, inappropriate, or illegal.
Our new Family Plans designed help you save money - by adding 3 or more users to one Parent Account, you can save 20% on your monthly bills. It's also one of the cheapest ways to own an iPhone by simply adding the iPhone to your account on a Bill Pay plan.
Tip: Choosing Three means you can choose a plan to suit you and your kids needs. From All You Can Eat Data to plans with unlimited calls and texts and even the added value of a Family Plan. For safety, Three Prepay plans have Adult Content Filters as a default setting.
Choosing the best Mobile for your kids
A few years ago there were phones for sale that were specifically for kids. Today, they're all smartphones, and you simply set them up to meet the needs of whoever is using them.
What kids use their phones for is evolving all the time and today, it's about more than just social media. E-learning has grown as schools can now teach remotely, while kids use their smartphones for entertainment, with streaming and gaming becoming more and more popular.
To help you make an informed decision, we've picked some of the smartphones that are most suitable for kids.
OPPO Reno4 Z
OPPO is a fantastic first phone for your kids for a number of reasons. The large 6.57-inch screen is ideal for watching videos or taking part in online learning. If your kids are creative, the Quad-Read camera will let them grow their interest in photography.
If they're into gaming, the screen has a 120Hz refresh rate, which means it delivers better picture clarity. It has long battery life but if they forget to charge their phone, it's not a problem. The 18W fast charger that comes with the phone means they'll be powered-up in no time.
The Reno4 Z also supports 5G which means faster streaming – remember though, on a Prepay plan 5G is an extra monthly charge.
Tip The OPPO Reno4 Z features a large screen, Quad-Read camera and a fast charger.
Samsung Galaxy A51
The Samsung Galaxy A51 is one of the most popular smartphones on the market because of its balance of a high spec and an affordable price. It comes in two versions, one with 5G and one without. 
The ultra-impressive features include a Quad-Primary camera with a powerful 48MP lens and a 32MP selfie camera on the other side. This delivers great picture quality, especially if you have decided your kids are allowed to use social media apps like Tiktok, Snapchat and Instagram.
Another feature parents will like is that the Galaxy A51 is water-resistant, up to a meter deep for half an hour. While we still don't recommend testing it out, it's good to know that getting caught in the rain or dropping it in the sink shouldn't be a problem!
Tip: With or without 5G the Samsung A51 boasts an impressive camera and it's water-resistant.
iPhone SE
For some people, only an iPhone will do and you have a choice between getting your kids a new iPhone or if you've had an upgrade, giving them your old one.
If you want to give your kids your old iPhone, first make sure your phone is either unlocked or signed-up to Three. Then buy a Three Sim-Only plan, either Bill Pay or Prepay.
One of the most popular ways to buy a new iPhone for your kids is to get it on a Bill Pay contract. If you go for Bill Pay, it's very important you discuss things like premium numbers and other out-of-plan costs in the Terms and Conditions section of the contract.
Family Plans are another option, where you can monitor your children's spend and usage while they're getting used to their first smartphone. Alternatively, you can buy them a phone on a Prepay plan.
Which iPhone is best for kids?
One of the most popular iPhones to buy children is the iPhone SE. It's a really powerful iPhone that uses the same processor as the iPhone 11. It's one of the smaller iPhones on the market too, which suits smaller hands and it's the best value iPhone in the Apple range.
Tip: Giving your kids you old iPhone is one option; if it has to be new, the iPhone SE is a great choice. Choose a Prepay plan, a Bill Pay plan or a Family plan.
Need a bit more guidance?
At Three, we're always here to help. Our agents are here to support you seven days a week from the comfort of your own home. Or let Three come to you with our one to one video shopping service 3Store Connect where our retail experts can guide you through our plans and phones.