4G for Business
Three is delighted to offer 4G across all of our mobile price plans, so your business doesn't have to slow down just because you're on the move.
With a 4G capable phone or tablet you can get online and harness the power of the cloud to use business apps and access documents including HD videos and presentations, just like you would from your desktop. It's like broadband in the air - and up to 10 times faster than 3G.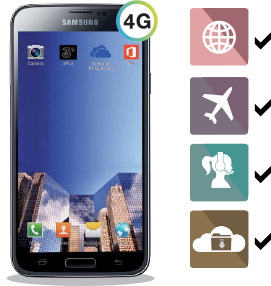 Benefits of 4G:
Enhanced Mobile Working: 61% of Irish CEOs are designing a company that actively encourages their employees to work remotely. The speed and reliability of 4G makes this possible for your organisation.*
Enhanced Innovation: 80% of CEOs in Ireland agree that connected devices like smartphones and tablets allow their workforce to be more innovative and creative*. With faster connection and download speeds, your team can collaborate wherever they are.
Cloud Storage: 4G lets you save to the cloud, making it easier to share and edit documents and saving you valuable time.
Enhanced Network: Three has invested almost €2 billion to date in building its network in Ireland.
*IBEC Survey, 2015. **4G access is subject to enabled device, coverage and software. See
here
for terms.
Check out our flexible 4G plans.
Customer Success Stories
There have been no dropped calls or areas where there has been no coverage.