05 August 2021
Peek Inside The New Three Lifestyle Store
Have you heard the news? We're investing €27 million in our 60 stores around Ireland to make them more exciting than ever to visit! But what's changing? And why should you be adding your local Three Store to your next shopping spree? We've got everything you need to know about what to expect inside the new Three Lifestyle Store right here.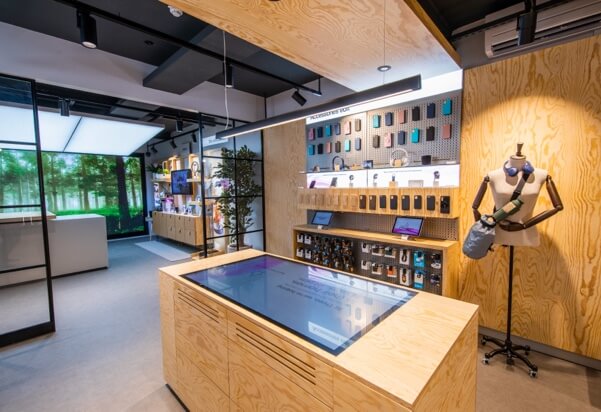 A Brand New Shopping Experience
Right at the core of "the what" we're doing is creating an immersive shopping experience we hope you love.  The goal is to form a space for you to browse and discover a range of curated products hand-picked for you. We've done the research, listened to you and our new lifestyle stores are the result. We think they'll transform the way we think of tech and the benefits it can have on our lives.
A Wider Range Of Products
Our new retail shopping experience means we now offer a wide range of products to complement the many different aspects of your lifestyle. We'll be showing you a curated collection of over 88 new products. Some will be available in-store, with the full selection being available online. As part of our transformation into a retail space filled with curated lifestyle products and accessories, we've categorised our range into four themes that we think you'll love.
You'll be now able to browse and shop products relating to home, work, music, and play at launch. While lots of these products will be connected in some way to your smartphone, we'll also have a range of non-connected products to complement your lifestyle.
Throughout the year, these categories will flex and evolve to meet your needs and the varying needs of the wider public, ensuring a constantly fresh offering of unique products in-store and online.
Take It All In
When you visit one of our new stores, we want you to relax and take in the whole experience, which is a feast for your senses. So take your time to explore our full range of new products alongside our wide range of smartphones. Pick them up and try them out to see how they could fit into your life. Learn about the services we provide and take on board the advice of our expert staff, who'll be able to guide you through everything using the new consultation space and new in-store technology, including iPads and our Discovery Table. More on that later.
Keep an eye out for our teams' brand-new uniforms too. We knew our uniforms needed to match our new store. So after lots of trend and design research, we came up with a unique style that's cool, modern and stands out.
Providing a safe shopping experience for both our customers and employees is important to us. To ensure this is the case, we have strict protocols in place. We're following all government guidelines and have also implemented enhanced cleaning measures. Steps taken include appointment booking, Perspex screens throughout all stores, providing additional hand sanitising units and wipes throughout with signage and floor markings to encourage social distancing.
A New Way To Discover
Our store is designed to guide you on a journey of discovery. On your visit to our new lifestyle store, you'll see themed areas with products relating to each section. Don't miss the Robovac in the home section in the back of the store!
One of the most exciting elements of your visit will be the Discovery Table. This is a 55-inch interactive display where you can browse our product categories and even drop product pucks on the screen to load content about our coolest products. To start, you'll be able to test this out for the Samsung Galaxy S21 Series and iPhone 12 Series.
You can even add your favourite products to your basket. Finally, using the Discovery Table, you can complete your purchase using your phone, email it to yourself or signal to a staff member that you'd like some help.
A Bit Irish
Across our new categories, you'll find some Irish products as we do our bit to support Irish businesses. Look for the shamrock icons throughout the store for the best of our Irish lifestyle products.
Hint: Some of the brands you're looking for are Flying Elephant, Onesonic, Vinehall and Ecoset. They're not only Irish but also have a particular focus on sustainability too! So let's look more at that.
Sustainability
We've considered a lot of different things when it comes to our curated range of products. Of course, one core value is sustainability. But beyond hand-picking products with this in mind, we've applied this to our wider store, right down to the bag you'll take home after buying. Our bags are 100% recyclable, including the rope handles, and we're the first in Ireland to use this new paper rope technology.
Why Are We Investing In Retail?
It's been a tough time for retail, but our own research shows that people are eager to get back to the high street and get back to shopping.
Hitting The High Street
23% of people surveyed said they want access to our expert retail team's knowledge.* What better way to make a tech purchase than with our expert team helping you pick the perfect product.
When you find the perfect product, you can then take a look at it! Additional research shows that 60% of people prefer shopping in-person over online, with 26% of people preferring in-store shopping so they can pick up a product and get a feel for it.*
Of course, you can still shop online, and we believe both of these spaces, virtual and physical, should complement each other. Last year we relaunched our website, and now we're relaunching how our retail stores look, feel and operate.
Retail Is A Vibrant Space
Our own Chief Commercial Officer, Elaine Carey, says, "Retail as a physical space is incredibly vibrant, and we want to bring something completely different to the Irish high street, focusing on people, expertise, experience, and community".
"For shoppers, we will offer something completely new, in-store or online they will get expert advice as well as access to a curated offering of lifestyle products as well as smartphones, IoT and connected devices all enabled by our leading network. In evolving what we do and how we do it, we are committed to helping customers discover and uncover, on and offline, lifestyle solutions that will positively contribute to how they want to live their lives".
We Still Sell Phones
We should add that we still sell all of your favourite smartphone brands. All of these new additions to our product range is just that. Additional, sitting alongside the network's existing mobile and broadband services, on the country's fastest mobile network**. We want you to be able to upgrade your phone and then connect it to some of the most amazing technology on the planet. For this to happen, the phone is still really important so don't worry. We have an iPhone for everyone, the latest Samsung smartphones and more.
Where You Can Find The New Three Lifestyle Stores
The rollout of store updates will take some time, but we are rolling this out to all 60 stores across Ireland, with the project set to complete in 2023. By the end of August, you'll be able to check out this new store experience in Patrick Street, Cork, Henry Street, Dublin and Parkway, Limerick. There'll be 13 further stores launched before the end of the year and a whopping 100 products spread across in store and available to buy online.
* Three conducted extensive research before this launch and rollout starting in 2019 and into 2021. Quantitative analysis was conducted by Behaviours & Attitudes and Foresight Factory between January 2020 and March 2021. Qualitative research was conducted by Bricolage between 2019 and 2021
** As verified by Ookla.